JANUARY 15, 2007
McLaren launches the MP4-22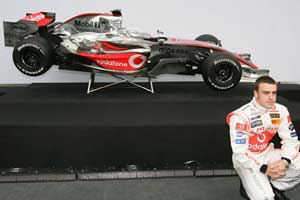 Vodafone McLaren Mercedes race drivers Fernando Alonso and Lewis Hamilton will drive through the streets of Valencia in their Formula 1 cars later today to mark the start of an exciting new era for the team. The event heralds the launch of the Vodafone McLaren Mercedes team. There are expected to be crowds of 150,000 or more on the circuit which has been laid out around the Ciudad de las Artes y de las Ciencias. The two men will be at the wheels of a pair of MP4-21s. After the demonstration runs the MP4-22 will be launched.

Work on the MP4-22 started before the launch of the MP4-21 and aerodynamic work began in May.

"Inevitably people can look at our performance last season and be able to criticise us," said the team's Martin Whitmarsh. "And frankly, we didn't do a good enough job. My feeling, having been at this point of the season on many occasions before, is highly optimistic for 2007. We are devoid of the tyre competition that we have had in recent years; however we are very happy with our relationship with Bridgestone and their technical approach. We have been working hard on the engineering package and believe we have made good progress to improve our performance."