JANUARY 12, 2007
Toyota aiming for victory (again)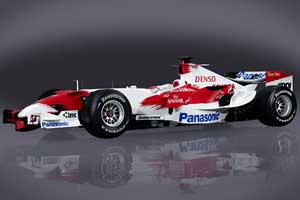 The Panasonic Toyota Racing team has launched its new TF107 and hopes that this will be the car to give it is first victory in Formula 1. The car will be driven by Jarno Trulli and Ralf Schumacher.

"We announced that a year ago, but we failed to succeed in 2006," said the team's chairman Tsutomu Tomita. "Therefore we want to repeat that challenge in 2007. I know all the other teams are working very hard, particularly the top three. We have five years experience in F1, but still we are young in comparison with the top teams, therefore we have to be modest about it. But we would like to challenge them."

The new car benefits from the lessons learned in 2006

"We have addressed reliability this year," said John Howett, the team president. "And we have resolved issues like the launch system, which we fixed at the end of last season, and which cost us dearly. We're improving the car, flat out, all the time. So I think we have the potential to win this year."

A completely new car, with no carry over from the TF106 or the TF106B, the new machine has an engine which is further forward in the car with a longer gearbox, featuring a seamless shift system for the first time. The car is actually higher than previous models but has better aerodynamic figures.

The car has been produced by the team under Noritoshi Arai, who is the team's director of technical co-ordination. He reports to Toyota in Japan and is responsible for liaison between the Motor Sport Division in Higashifuji and the factory in Cologne. The chassis division of the team is headed by former tyre man Pascal Vasselon while the engines are overseen by Luca Marmorini.

Arai has been with the motorsport division since 1990 and worked on the Toyota Le Mans project in 1991 and 1992 and then moved on the company's GT activities. After a spell in passenger cars he returned to racing in 2002.