OCTOBER 27, 2006
The future of Scott Speed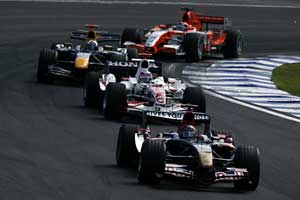 Red Bull has denied stories circulating in F1 circles that there may be a change at Scuderia Toro Rosso next year with Scott Speed being replaced by Robert Doornbos - but that does not mean that it is not going to happen. Scuderia Toro Rosso may have Red Bull signage all over it, but it is a joint venture between Red Bull and Gerhard Berger, as part of a larger deal that resulted in Dietrich Mateschitz buying 50% of the Berger Group, a transport company based in Radfeld near Innsbruck. This runs a large fleet of 220 trucks and also builds around 400 trailers a year. It employs 400 people and has a turnover of $120m.

Part of the deal was that Berger would run the team and that he would provide half the budget each year and it is this point that is raising questions about Doornbos as he is understood to have around $10m available from Har Muermans, a Dutch real estate developer, and Berger is interested in using that money because finding sponsorship for a team without major results is not easy - and Berger clearly does not wish to use his own money. Such a move might cause tension between Mateschitz and Berger as the Red Bull magnate has long nurtured Speed's career and wanted an American in his programme. To make matters more complicated, Speed has done a decent job in his first year in F1, despite the poor quality of machinery which has been used. Dumping the American thus makes little sense, except for Berger's budgetary requirements.

The interesting thing will be to see how the Austrians sort out this situation and whether it any long term implications on the relationship between Berger and Red Bull.