OCTOBER 4, 2006
ABN Amro and Renault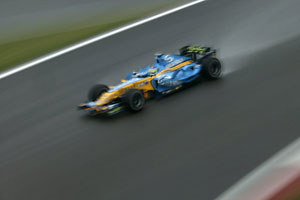 There have been rumours in recent days about the Dutch bank ABN Amro becoming the title sponsor of the Renault F1 team. These have been denied - and that is not a surprise as ABN Amro is involved in F1 for different reasons, having worked out that with all the money that currently flows in and out of the sport that there is much to be made from facilitating deals. ABN Amro is believed to have been involved to a lesser or greater extent in some of the Formula One company's deals in recent years and was involved in the financing of the Spyker take-over of Midland F1. The skill is for the bank to introduce different parties to one another and set things in motion and then take a fee, in much the same way as a sponsorship agent works. Thus if a story has leaked out about ABN Amro being involved with Renault it is quite possible that someone has picked up a whisper of a new deal but has identified the middle man rather than the new sponsor.

Our sources tell us that Renault's plan for the future is to follow the lead established by McLaren with four bid sponsors rather than one massive title sponsorship deal. These are best if they offset so that the team never loses all its money at the same moment. We hear that Renault will have Telefonica and perhaps UPS and it is highly likely that Elf will remain as well although the identity of the other big deals is as yet not clear.

Announcements are expected in the coming days from Williams as the new Toyota engine deals means that there may be some more Japanese backers for the team. Watch this space ...