OCTOBER 2, 2006
Davidson for Super Aguri F1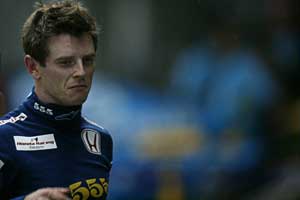 Anthony Davidson is expected to be confirmed later this week in Tokyo as one of the drivers of Super Aguri F1 for 2007. The 27-year-old British driver has been a test driver with BAR since 2001. He was loaned out to Minardi in 2002 and took part in two Grands Prix for the Italian team but then went back to testing again until Malaysia in 2005 when he substituted for an unwell Takuma Sato. Although he has not raced much, Davidson has a huge amount of testing mileage and has done an impressive job as a Friday driver as well. He has tried to go racing on a number of occasions but could not secure a drive because he could not give any long-term commitment as Honda wanted to keep him under contract. But for this he might have driven for Williams and Jaguar. Now, it seems, his loyalty to Honda is finally going to pay off with the chance of a driver with Super Aguri F1. Honda Racing F1 is keen to develop the testing skills of James Rossiter, who does occasional tests at the moment while also racing in the Renault World Series.

Super Aguri F1 has been negotiating for some months to get all the F1 teams to agree to change the Concorde Agreement to allow it to use cars built by the Honda F1 in 2007. Super Aguri argued that as the engine regulations are coming a year ahead of schedule it is logical to do the same with engines. This proposal was accepted by all but one team - believed to be Spyker MF1 - which argue that such a deal would give Super Aguri a performance advantage and said it would only agree to the idea was if everyone agreed that F1's TV money should be shared between 12 teams rather than the current 10.

Not surprisingly this failed as none of the teams wanted to share any of their money with the smaller operations.