AUGUST 5, 2006
Mark Webber, Red Bull and implications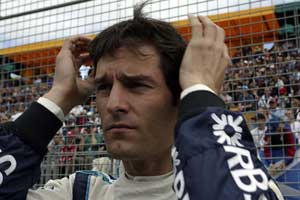 The Formula 1 rumour mill has been in high gear in recent days with all manner of speculation regarding the destination of Mark Webber. The suggestion that the Australian left a secure drive at Williams without knowing that he had a drive elsewhere (and almost certainly a signed contract) is ridiculous. One cannot take such risks in F1 these days. If you do not have a signed contract, you do not have a deal.

Webber knows where he is going next year.

The paddock speculation is that Webber is either going to Renault or McLaren. These are both sensible assumptions with the former more likely that the latter. But we do not believe he will go to either. McLaren is highly unlikely to sign a driver who is managed by Flavio Briatore and, while a deal at Renault makes some sense, it makes more sense for him to go to Red Bull Racing.

It had been thought that Red Bull would keep all four of its current drivers under contract again - but that may not end up being the case.

The logic behind Webber at Red Bull is very clear. The team is the same basic team he drove for before moving to Williams - when it was Jaguar - but now it is better. It has a technical team that is headed by Adrian Newey and Webber could help the team secure a supply of Renault engines for RBR. Ferrari wants the team to keep using its V8s and meetings were happening in the course of Friday to try to sort this out but the signs are that Scuderia Toro Rosso will use Ferrari engines. The identity of the drivers is not yet known.

One needs to look at a bigger picture to understand why Webber will not join Renault. He is a Renault driver but the team already has a deal with Giancarlo Fisichella and there is believed to be a commitment to Heikki Kovalainen to race in 2007 as well. While such a deal could be negotiated away, the key point is that Renault needs to keep its young drivers moving in order to attract the next generation of heroes to sign on the dotted line. The big question is whether Fisichella-Kovalainen is a World Championship winning driver line-up. And how does that compare to a Fisichella-Webber duo? In addition one must ask whether Flavio Briatore will be with the team next year as he has been making noises in recent days about wanting a quieter life. Perhaps Renault is about to grant him that wish

One can understand that Red Bull might like to have Renault engines and Renault might want to place a driver at Red Bull but Heikki Kovalainen is a novice in racing terms and one can understand why Red Bull might want a driver with more experience. Thus pulling Webber out of Williams makes sense. If Kovalainen does well next year he will become an established star - and increase his value. If he or Fisichella are judged to have failed Renault could always pull Webber back from Red Bull for 2008.

But all of this has a subtext that no-one seems to be discussing. In Formula 1 the dominoes usually fall from the top down. The best drivers do their deals and those beneath them wait before reacting. This year the dominoes are falling the wrong way. And that can only mean one thing: there is going to be one driver at the top end of the sport who is going to end up without a drive. That is not going to be Kimi Raikkonen. That is not going to be Felipe Massa, he is far too confident for that.

And that leaves just one name: Michael Schumacher.

If Michael was driving next year the market would not be moving. The fact that deals are being done logically can mean only one thing.