JULY 26, 2006
Tony George gets some good news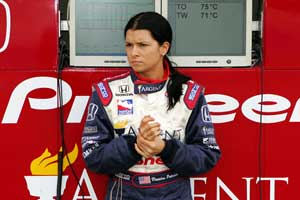 Indy Racing League boss Tony George has had a lot of things to worry about of late with no deal yet with Bernie Ecclestone over the United States Grand Prix, no compromise with Champ Car over the future of open-wheeler racing in the United States and the fear that Danica Patrick, IRL's biggest asset (rightly or wrongly), was about to take off to NASCAR. Now Patrick has signed for Andretti Green Racing and George can look forward to the possibility that America's star lady racer will actually win races in 2007. It is yet to be confirmed but it is expected that Patrick will replace Bryan Herta in the AGR line-up with the veteran moving on to race for the team in the ALMS with the new Acura operation. Patrick will line up alongside Tony Kanaan, Marco Andretti and Dario Franchitti.

"Our focus has been and always will be on winning races and winning championships," says Michael Andretti. "We certainly believe Danica will do that. She has made it very clear that one of her goals as a driver is to win the Indianapolis 500 and we are looking forward to giving her a great opportunity to do that."

The announcement means that Patrick will leave Rahal Letterman Racing, the team that gave her her break in racing.