JUNE 11, 2006
Montoya out of McLaren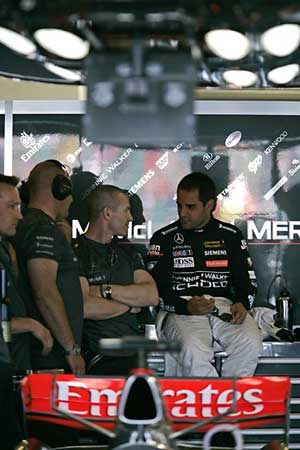 The word in the paddock at Silverstone is that Juan Pablo Montoya has been told by McLaren that his services will not be required in 2007. With Kimi Raikkonen off to Ferrari (yet to be confirmed) and Fernando Alonso moving to McLaren this opens the way from the Woking team to hire F1 new boy Lewis Hamilton, who is dominating GP2 is impressive fashion this year, despite being in his rookie year of the series. Hamilton won two stylish victories at Silverstone over the weekend and now leads the series by 22 points from Nelson Piquet Jr.

Montoya's future in F1 is now in some doubt as the only real options available to him are Red Bull Racing and Toyota. Red Bull does not seem to be very interested as David Coulthard is doing fine and Toyota might take him on in place of Jarno Trulli. At the moment Trulli is holding out for more money but with Montoya on the market he will probably compromise on the cash to secure the seat.

If Red Bull decides against hiring Montoya - and that is quite likely given that Tonio Liuzzi looks a good bet and the team seems keen to keep Coulthard - then Montoya may not have a future in F1 in a team that would be of any interest to him. The logical move in that situation would be to head back to the United States where he won the CART title in 1999 with Target Chip Ganassi Racing. Ganassi is now a major player in the Indy Racing League and is currently running a pair of Target-sponsored Dallaras for Dan Wheldon and Scott Dixon.