APRIL 6, 2006
How A1 is doing against F1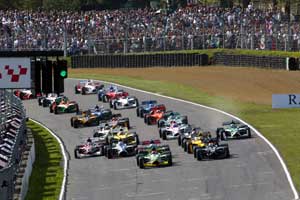 Although everyone likes to say that the A1 Grand Prix series is not in competition with the FIA Formula 1 World Championship, it is inevitable that the two will be compared.

And as A1 comes to the end of its first season, it is worth considering how things have gone. It has not all been easy but the A1 Series seems to have supplied a good show. The standards of driving have been colourful but the chassis have showed several times that they can withstands accidents caused by those less competent behind the wheel than others.

There has been talk of money trouble but with plans going ahead for next year these cannot be too serious. We have to see how many teams return next year because with budgets of between $1.5m and $3m a year competing in A1 Grand Prix is not small change, although it is a great deal better value for money than GP2. In truth, A1 has benefited from this because many of the GP2 teams have become involved in A1 which means that their staff have been kept busy over the winter months and so the teams are much more cost-effective than before. Sponsorship in A1 has been pretty limited and will take time to build up and the big question is whether there will be enough money to hold everything together until that happens. Having wealthy franchise-holders is a good way of achieving that, particularly if they think that are gaining national importance as a result.

The biggest problem of all, many would argue, is that motorsport is simply not well-suited to this style of competition because when France won a race people asked: "Who was the driver?" That is a normal reaction in a motor racing crowd. The man is more important than the team. This is a hurdle that A1 has to get over and probably the way to do that is to attract big stars so that headlines can scream "Prost wins A1 Grand Prix for France" which is rather more exciting than "French Team wins A1 race". The cult of personality is deeply ingrained in the traditions of motor racing. Finding new audiences and educating them differently is a way forward.

The calendar for 2006-2007 is already well-advanced and it is being tweaked to create a more logical championship, starting out in Zandvoort on October 1 on the same day as the Chinese GP. Our spies tell us that the series will end at Brands Hatch in April next year, rather than in China. This year (2005-2006) featured 11 races. We hear that a 12th will probably be added and while France would be a logical place, given the domination of the French team, the reality seems to be that the cars will head to Brno in the Czech Republic.

According to our sources the races attracted a live audience of around nine million which is a pretty good effort with the Jos Verstappen factor being the reason for a strong following in Holland. Otherwise it seems the sport is strongest in Asia.

There are negative points that need to be addressed. The series suffered seriously from the domination of the French team, which won 13 of the 22 races. Brazil won two way back at the start but then lost its way. Mexico won two while the Czech Republic, Switzerland, Malaysia, Holland and Canada all won one race. Britain, the centre of the global motor racing industry, won nothing, which was a pretty poor effort although the team finished consistently enough to finish third overall. Five of the top 10 nations at the end of the year were European.

Oddly, despite the French success there are no signs of a race in France in the year ahead.

When one looks more closely, however, one must note that the DAMS team actually won 16 of the 22 events as the operation looks after the French, Swiss, Russian and Mexican teams. This may be an effective way maximise the number of teams running in the championship but it is important that countries develop their own teams rather than acting as customers to professional organisations. That will happen in time but needs now to be encouraged.

For the moment, however, one can say that A1 has done a decent job although not one that truly worries F1.