APRIL 4, 2006
Exit Gascoyne from Cologne?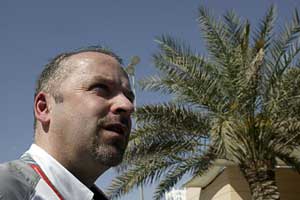 The word on the street on Tuesday was that there has been a major shake-up at Panasonic Toyota Racing with our sources saying that technical director (chassis) Mike Gascoyne has departed the team. We contacted Gascoyne to see if there was a story. He is saying nothing at all beyond "No comment" and by default one must assume that there is a problem because in normal circumstances Gascoyne would swat away such rumours. What is not clear is why this may have happened because the team was looking up with Ralf Schumacher's third place in Australia and there was no obvious sign of tension. The first three races have not been easy for Toyota and Gascoyne's driving ambition is not always guaranteed to go down well with people who are used to more corporate ways. Having said that, corporations tend to lumber along slowly and that rarely works in F1.

We expect that once the story begins to leak out there will have to be some kind of reaction from Toyota.