MARCH 25, 2006
Alonso signing explained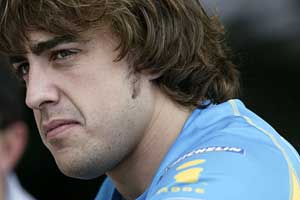 Fernando Alonso signed his deal with McLaren around the start of November but was unable to get a face-to-face meeting with Flavio Briatore for the six weeks that followed before the news was finally announced. In the end Alonso told Briatore by telephone. The story, related by McLaren boss Ron Dennis to F1 Racing magazine, raise a number of questions about Briatore's management style, which one must suppose they were intended to do.

Dennis's story confirms that Briatore was not involved in the negotiations as the talking for Alonso was done by his manager Luis Garcia Abad, his lawyers and his family. Dennis says that around 25 people knew (and kept) the secret for six weeks as Alonso tried to get a meeting with Briatore.

"Owing to factors outside Fernando's control, he couldn't manage to meet Flavio to tell him the news," Dennis explained. "He tried quite a few times, but a meeting proved impossible to arrange. In the end, after six weeks of trying, and being very keen to inform Flavio before the news was leaked, Fernando had to inform him by telephone."

When Briatore heard the news he tried to delay an announcement but Dennis said that he was by then in an impossible position because so many people knew that a leak was inevitable.

"I didn't want the news to go public via a leak," Dennis said. "So the next day we sent out a press release."

Briatore runs his own business empire in addition to his work at Renault. He runs the Billionaire Club in Sardinia and the Billionaire clothing company, plus his driver management business (of which Alonso is a client) in addition to other investment companies. Briatore is said to have homes in New York, London, Paris, Athens and Kenya.