FEBRUARY 10, 2006
McLaren unveils 2006 livery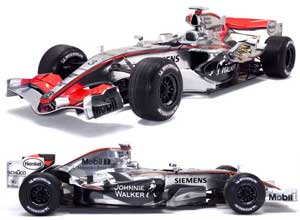 McLaren today unveiled the livery design for the 2006 season. The new colour scheme for the MP4-21 features chrome, black and red.

McLaren's Marketing Director Ekrem Sami said, "A lot of research and months of work have gone into creating this unique chrome finish. We are always looking at innovative ways to allow our sponsor partners to differentiate their brands from the competition through their partnership with the team and this unique livery is designed to be extremely photogenic. Team McLaren Mercedes had the highest audited 'Share of TV Voice' in 2005 - and we hope that this new identity will contribute to us retaining that status. When we created our previous livery in the mid nineties we established what we believed then was an innovative and groundbreaking new identity for McLaren Mercedes. What we have launched today is as revolutionary and we hope it will be the foundation of the team's livery for many years to come."

Kimi Raikkonen said, "I have only seen illustrations of the new livery until now but they do it no justice. It looks fantastic and should create a bit of a stir when we drive it on tracks around the world. If we can make the car as fast as it looks then we will be in good shape."