JANUARY 23, 2006
The new McLaren MP4-21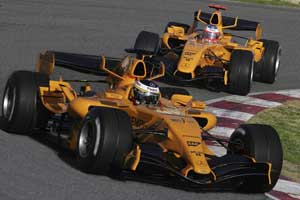 The new McLaren MP4-21 ran for the first time at Barcelona on Monday, the team keeping its orange livery for the moment. The car is an evolution of the successful MP4-20, which won 10 of the 19 races last year. The car will now remain in Spain being tested by the team's four drivers. The team is planning around 20 days of testing before the Bahrain Grand Prix which will give the team time to develop the new chassis and the Mercedes-Benz FO 108S V8 engine.

The revised engine regulations for 2006, with the change from V10 to V8, has dominated the overall design process although research work for the MP4-21 began as long ago as August 2004, when the team began to consider the implications of a switch to V8s. Designed and built from scratch, the Mercedes-Benz FO 108S V8 ran for the first time at Silverstone in September last year.

The reduction in horsepower has meant that the importance of aerodynamics has increased particularly in relation to drag.

"Visually MP4-21 will look very similar to MP4-20," said Jonathan Neale, Managing Director of McLaren Racing. "In addition to the tighter packaging to the rear of the car, people will notice differences to the nose area, which has been lowered, and the aero body work, such as the barge boards and deflectors. The reduction in required cooling for the V8 engine has allowed us to in turn reduce the size of air intakes, this includes apertures in the main chassis, which is beneficial to the overall aerodynamic package. There are a significant number of changes in the cars structure, geometry and aerodynamics as a consequence of 16 months of R&D innovation. At McLaren Racing, we have a strong team of 135 engineers, and all have made a vital contribution. ÊNow the new car has been released, our primary short term focus will switch to durability testing, proving the software, the systems and the 11,500 car components, 90% of which have changed from MP4-20. In addition we have a series of engine and chassis performance packages to bring to the car for the initial races. There is a lot of work to be done."