DECEMBER 19, 2005
Keith Duckworth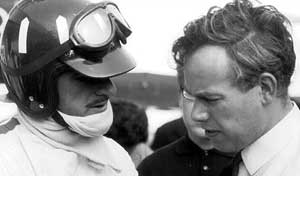 Keith Duckworth, the man who designed the Cosworth Formula 1 engine, the most successful engine in the history of the sport, has died at the age of 72. Duckworth's influence on motor racing was enormous not simply as a designer but also for the role he played in building up the British motor racing industry by supplying affordable engines to small teams in a variety of different formulae.

Duckworth was born in Blackburn, Lancashire, and educated at Giggleswick School in Yorkshire. After completing his National Service with the Royal Air Force, he went to Imperial College in London to study engineering and in 1957 became a transmission development engineer at Lotus Cars, under the watchful eye of the great Colin Chapman. In 1958 he joined forces with another Lotus engineer called Mike Costin and the two formed Cosworth, their first job being to develop parts for Ford road car engines. Costin did not join the company full-time until 1962 but by then the business was firmly established and in 1964 moved to its current headquarters in Northampton.

In the autumn of 1965 Ford commissioned Cosworth to built two racing engines: a 1.6-litre Formula 2 engine and a 3-litre Formula 1 V8. The results were the Cosworth FVA and the legendary (a word not used lightly) DFV. Duckworth designed both these engines in the course of 1966 and the DFV won on its debut at the Dutch Grand Prix in June 1967, the first of 154 Grand Prix victories for the engine and its various derivatives. The DFV became the mainstay of Grand Prix racing in the 1970s and allowed teams like Brabham, McLaren, Williams and others to compete with factory teams such as Ferrari and Matra.. The Cosworth DFV would go on winning races until Las Vegas in 1982 buts its DFX derivative would also enjoy huge success in America. The DFX dominated Indycar racing in the late 1970s and early 1980s, scoring 81 consecutive victories at one point. The company also produced the Ford BDA for F2 although this was later used to great effect by the Ford rallying teams.

Cosworth was more than just an engine business. Mario Illien and Paul Morgan, the founders of Ilmor, were both Cosworth-trained engineers, and their Ilmor business became a major rival for Cosworth in the 1980s by which time Duckworth and Costin had sold the firm to United Engineering Industries. It was then passed on to Carlton Communications, Vickers plc and ultimately was split in two with Audi acquiring the road car business and Ford buying the racing operations. Cosworth Racing was sold on by Ford and is now owned by Champcar bosses Kevin Kalkhoven and Gerald Forsythe. Duckworth retired a wealthy man in 1988 at the age of 55.