NOVEMBER 1, 2005
Super Aguri F1 is go!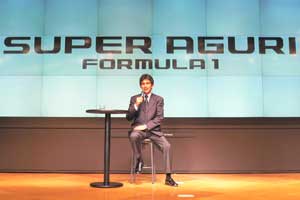 It has been confirmed in Tokyo that Aguri Suzuki is the man behind the new Honda team, as we exclusively predicted some weeks ago. The name of the new team will be Super Aguri F1 and the cars will be known as Aguri-Hondas. The team will be headquartered in Tokyo, close to the Honda head office but the factory will be at Leafield, where the company has acquired the Menard Engineering facility, formerly the Arrows F1 factory. There are already 100 people working on the project.

The plan for the new team began as long ago as February but did not really take shape until September. The team will almost certainly be funded by Softbank but the contract is not yet signed.

Bridgestone has offered to supply the team with tyres.

Suzuki says that he is talking to Takuma Sato but did not mention any other drivers, although Anthony Davidson is also believed to be a likely driver.

The plan is for the new team to be officially launched at the end of January.