SEPTEMBER 28, 2005
Ferrari's step forward?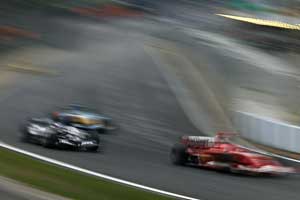 Before the Brazilian Grand Prix Ferrari sources were saying that the team had nothing new for the event at Interlagos and thus it was something of a surprise to see what looked like a considerable improvement in the team's performance in qualifying and in the race. This could be explained in several ways, notably that the cars reacted well to the many bumps at Interlagos. The only problem with that theory is that the cars did not very good but were still able to produce some decent times. The other possible explanation is that the team's rivals failed to perform and thus Ferrari looked better than it has in recent events.

It will be interesting to see how the cars go in Japan and China. Ferrari is third in the Constructors' title and is likely to remain there unless Toyota can pull something dramatic out of the bag in the last two races.