APRIL 6, 2005
Wada to replace Tanaka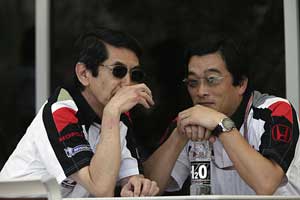 Honda has named Yasuhiro Wada as the replacement for Shoichi Tanaka as president of Honda Racing Development Ltd, the British-based company which oversees the Japanese company's F1 activities. Tanaka is retiring.

Wada was formerly in charge of Honda Performance Development Inc. in the United States where he oversaw the company's Indy Racing League programme from 2003. Prior to that he was heavily involved in the launch of the Acura brand in the US in the 1980s and then had a series of sporting jobs leading up to his appointment as general manager of the Honda Motor Sports Division in 2000, he was responsible for the start up of Honda's current Formula 1 project.

Wada will also be on the corporate board of BAR alongside technical boss Takeo Kiuchi, and Honda's director of corporate communications in motorsports, Hiroshi Oshima. The other board members from BAT are Neil Withington, BAT's head of legal services, BAT's chief operating officer Antonio Monteiro de Castro and Nick Brookes, the chief executive of BAT's US subsidiary Brown & Williamson.