FEBRUARY 24, 2005
A movie about Villeneuve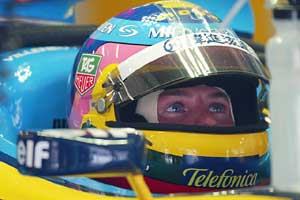 A movie to be called "Villeneuve" is to go into production in 2006 - if all goes to plan. The movie will tell the story of Gilles Villeneuve and his son Jacques, who became Formula 1 World Champion in 1997. The move is to be made by Gabriella Martinelli, a Italian-born producer who grew up in Canada. After starting out on TV commercials, Martinelli made several feature films in Canada before becoming head of production at Independent Pictures, a film company in Toronto. In recent years she has worked with David Cronenberg on several feature including "Madame Butterfly" and "Naked Lunch". She also produced "William Shakespeare's Romeo + Juliet" in 1996.

The movie is to be based on the book "Villeneuve" by F1 journalist Gerry Donaldson. It will follow the career of Gilles Villeneuve from his early career in Canada to his success in F1 and his death at Zolder in 1982. It will then go on to chart the rise of Jacques Villeneuve.

The movie will be directed by Montreal's Christian Duguay while the script will be written by Malcolm Clarke.

There is no word yet on the casting.