SEPTEMBER 9, 2004
Panis signs for two years as Toyota tester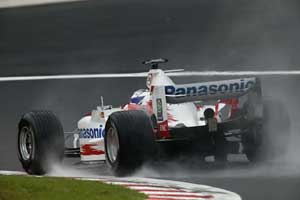 Olivier Panis has signed a two-year deal to be Toyota's third driver. He will substitute if either of the two Toyota drivers in 2005 and 2006 is unable to race. It is anticipated that the team will sign Jarno Trulli to race alongside Ralf Schumacher for next year. Panis is the veteran of 155 Grands Prix and has won one of them, a famous victory at Monaco in a Ligier in 1997. Panis cannot run in testing on Fridays (if that continues) but will be available at each race in case he is needed. This will help the team with its promotional activities as well.

The team says that Panis's experience will also be used to guide the young drivers in the Toyota Driver Academy.

"My decision to retire as a race driver has come after some months of deep thought," Panis said. "I am proud that Toyota has decided to retain my services and I am looking forward to helping the team move further up the grid."

The team continues to say that it has not yet finalised its driver line-up for next year.