SEPTEMBER 5, 2004
Michael Schumacher to take on Jeff Gordon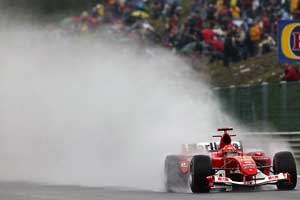 NASCAR star Jeff Gordon will go head-to-head with Formula 1 World Champion Michael Schumacher at the Race of Champions in Paris on December 4. The four-time NASCAR champion will take on the seven-time Formula 1 champion on a special course which will be laid own inside the Stade de France. The drivers involved will compete in a variety of different machinery including open-wheelers, Ferrari sports cars and World Rally Championship cars. The event is expected to fill the 70,000-seat stadium.

Gordon and his Hendrick Motorsport team mate Jimmie Johnson took part in the event in 2002 when it was held in the Canary Islands. The pair combined to win the Nations Cup for the United States of America.

Gordon and Johnson will fly in from New York after the NASCAR prizegiving banquet the previous evening and will have to handle the jet-lag as they will have to go straight to the Stade de France on arrival.

The event, organized by Michele Mouton, the most successful woman in the history of rallying, the event will feature 16 drivers who will make up eight national teams which will include France's rally star Sebastien Loeb. There will also be an individual competition called The Race of Champions. Among those expected to compete are World Motorcycle champion Valentino Rossi and six-time Le Mans 24 Hours winner Tom Kristensen. It is expected that Fernando Alonso, Olivier Panis and possibly Cristiano da Matta will also take part.