AUGUST 29, 2004
Race incidents from Spa-Francorchamps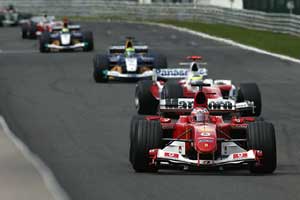 Atthe start of the race Fernando Alonso made a better start than Michael Schumacher and took second place behind Jarno Trulli before the first corner. David Coulthard took advantage of the situation to grab third while behind them there was chaos as Kimi Raikkonen tried to go around the outside of Felipe Massa and at the same time Mark Webber went inside Giancarlo Fisichella. Neither move was successful: Raikkonen and Massa hit and then Jenson Button ran into the back of the Sauber. At the same time Webber skidded into the back of Rubens Barrichello's Ferrari and lost his front wing. As they went down the hill Webber was rather slow and going through Eau Rouge Takuma Sato tried to pass him. The two cars touched and at the same time Montoya tried to pass the pair of them. The result was that Sato spun at the exit of Raidillon. Gianmaria Bruni arrived on the scene and hit Sato's car and then Giorgio Pantano ran into the stopped Minardi. Out at the spot were Webber, Sato, Bruni and Pantano. Button, Massa, Zsolt Baumgartner, Barrichello, Nick Heidfeld and Olivier Panis all stopped for repairs or new tyres. The Safety Car was dispatched while the track was cleared up. The order at the front was Trulli, Alonso, Coulthard, Schumacher, Raikkonen, Montoya, Fisichella and Antonio Pizzonia.

* Lap 2: Massa and Barrichello stopped for further repairs.

* Lap 5: The race restarted with the two Renaults staying ahead while Raikkonen passed Schumacher at Eau Rouge. Montoya then overtook Michael with a marvelous outside pass at the Bus Stop chicane. Further back Button passed Ricardo Zonta for 10th place and Massa went past Heidfeld, Panis and Baumgartner to climb to 12th place.

* Lap 6: Raikkonen overtook Coulthard at Kemmel to take third place.

* Lap 7: The two Renaults jousted for the lead but Trulli stayed ahead. Further back Baumgartner was overtaken by Panis, Heidfeld and Barrichello.

* Lap 8: Barrichello overtook Heidfeld to move to 14th.

* Lap 9: Ninth-placed Christian Klien was the first man to stop and fell back to 14th place.

* Lap 10: Trulli went into the pits and so Alonso took the lead. Jarno rejoined in ninth place.

* Lap 12: Alonso spun out the race with what appeared to be an engine problem. This put Raikkonen into the lead. Coulthard had a puncture and had to go slowly to the pits and fell back to the tail of the field. Heidfeld also lost a lot of time with a bit moment going through Eau Rouge.

* Lap 13: Raikkonen pitted and Montoya went into the lead with Schumacher right behind him. Fisichella was up to third with Pizzonia in fourth. Raikkonen rejoined in fifth with Button behind him.

* Lap 14: Fisichella pitted and so Pizzonia moved to third. Giancarlo rejoined in ninth place.

* Lap 15: Montoya stopped and so Schumacher took the lead with Pizzonia second. Montoya rejoined in eighth.

* Lap 16: Schumacher went into the pits and rejoined in fifth place. Pizzonia led for Williams with Raikkonen second and Button third. Trulli was back up to fourth with Michael Schumacher fifth. Sixth-placed Zonta pitted and fell back to 12th. Montoya and Massa went side by side into Eau Rouge and the Williams driver had to back off. Further back Baumgartner and Heidfeld both pitted.

* Lap 17: Pizzonia stopped and Raikkonen took the lead with Button second. Trulli third and Schumacher fourth. Massa was fifth ahead of Montoya, Pizzonia and Fisichella.

* Lap 18: Schumacher overtook Trulli on the run into the chicane. Down at the back Heidfeld had a third stop.

* Lap 19: Raikkonen's lead was up to 4.6 secs, while Massa pitted and went down to ninth. Panis also stopped and fell from ninth to 12th.

* Lap 20: Fisichella bounced over the grass at Les Combes and removed his bargeboards. At the chicane Montoya and Trulli collided. Trulli spun and fell from fouth to eighth. The stewards later announced that there would be a post-race investigation into the incident. Pizzonia was able to pass Montoya to take fourth.

* Lap 21: Button stopped and dropped from second to seventh. Raikkonen was 13secs ahead of Schumacher.

* Lap 22: Things were beginning to settle down. Barrichello passed Fisichella to take fifth place. Further back Trulli pitted and fell back to 12th.

* Lap 23: Barrichello pitted and dropped from fifth to 10th. Button went past Fisichella to take sixth place at La Source.

* Lap 24: At the front Raikkonen was able to maintain his lead over Schumacher while Pizzonia was third with Montoya right behind him. Button was next ahead of Fisichella, Zonta, Massa, Panis, Barrichello, Klien, Trulli and Coulthard. Baumgartner and Heidfeld were a lap behind.

* Lap 26: Fisichella pitted again and fell from sixth to 11th.

* Lap 29: Raikkonen stopped and so Schumacher took the lead with Pizzonia second. Fourth-placed Montoya also stopped. Further back Klien also had a stop.

* Lap 30: On the run up the hill to Les Combes, Button suffered a puncture and spun into Baumgartner, taking both men out of the race. A Safety Car was dispatched and Schumacher, Pizzonia, Zonta, Massa and Panis were able to take advantage of the situation while Raikkonen and Fisichella lost their advantages. At the back Coulthard and Heidfeld also stopped for the last time.

* Lap 32: The Safety Car was still out but Pizzonia stopped with a mechanical problem.

* Lap 35: The race was on again but Raikkonen was clever to slow the final warming up lap down so that the Bridgestone runners lost the heat from their tyres. This meant that Kimi was able to make a break from Schumacher. Further back Klien overtook Panis for eighth place and Coulthard overtook the struggling Trulli for 10th.

* Lap 36: Coulthard passed Panis for ninth. At the back Heidfield had another pit stop.

* Lap 37: Montoya had a puncture and had to complete a very slow. He retired in the pits.

* Lap 39: Coulthard tried to pass Klien for seventh place at Kemmel and ran into the back of the Jaguar. A Safety Car was sent out, Coulthard pitted for repairs.

* Lap 41: Raikkonen repeated the same trick, slowing the cars right down and the Bridgestone runners lost the heat in their tyres before the race restarted at the start of lap 42.

* Lap 42: Fourth-placed Ricardo Zonta retired with an engine failure after a good run in his Toyota. Coutlhard overtook Trulli again.

* Lap 43: Coulthard overtook Panis for seventh place.

* Lap 44: Kimi Raikkonen wins McLaren's first victory of the year. Second-placed Michael Schumacher wins his seventh World Championship. Rubens Barrichello is third with the remaining points going to Massa, Fisichella, Klien, Coulthard and Panis.