JULY 10, 2004
John Walton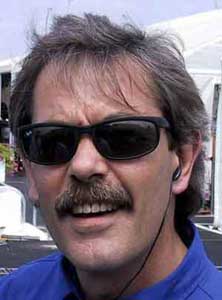 The Minardi garage remained closed on Saturday morning at Silverstone as a mark of respect for the team's sporting director John Walton, who died in St Thomas's Hospital in London on Friday night, following a heart attack on Tuesday morning. "John Boy" was only 47 and was one of the most popular figures in the Formula 1 paddock. His death has cast a dark shadow over the Formula 1 world at Silverstone.

Walton started racing in his teens helping out a young Eddie Jordan in Formula Ford 1600 in Ireland and he moved up with Jordan to Formula Atlantic in 1977. Jordan won the 1978 Irish title and then moved to Britain with Walton accompanying him to race in the British Formula 3 series under the Team Ireland banner. At the end of 1979 Jordan established Eddie Jordan Racing and Walton was his first employee. In the years that followed the young team struggled and in the end Walton took the opportunity to have a more stable life and joined the Toleman Formula 1 team, where he was Ayrton Senna's mechanic in 1984. When Toleman was taken over by the Benetton family in the middle of 1985 Walton was promoted to the post of chief mechanic, overseeing the Benetton-BMWs of Teo Fabi and Gerhard Berger. The team scored its first victory that autumn in Mexico City.

Walton remained as chief mechanic until a power struggle developed inside the team when Flavio Briatore arrived in 1989. At the end of 1990, tired on the politics, Walton went back to Jordan as chief mechanic of the new 7Up Jordan Formula 1 team, which entered F1 in 1991. At the start of 1993 the team manager Trevor Foster moved to Team Lotus and Walton was promoted to the role. Walton was team manager at Jordan for the next three years but was then offered the job of being team manager at Arrows, working with his old Benetton colleague Gordon Message. After a promising 1997 season with Damon Hill the team ran out of money and at the end of 1998 Walton was dropped after the team was taken over by a new consortium. Walton spent most of 1999 taking legal action against the team, believing that it should honour its commitments. He joined Prost Grand Prix as sporting director in January 2000 and played an important role in holding the team together during the difficult period after Prost ran out of money.

Walton moved across to Minardi at the start of 2002 and was once again a key player, running the team for Paul Stoddart. He was widely respected and had few enemies in the paddock, his relaxed and laconic style and his gentle sense of humour made him a hugely popular figure.

Walton's companion for the last 10 years has been ITV presenter Louise Goodman.

Our thoughts are with her and his family. Their grief is shared throughout the Formula 1 world.