JUNE 14, 2004
Williams and Toyota disqualified in Canada!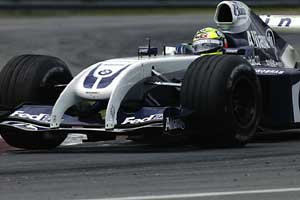 The Williams and Toyota teams were both disqualified in Canada for having illegal brake ducts. This means that Ralf Schumacher and Juan Pablo Montoya lose second and fifth places respectively and that Cristiano da Matta loses his eighth place. The big winners from this are Ferrari, which gets a 1-2 and an extra two points; BAR, which gains an extra point as Jenson Button is now third; Sauber which gets fourth place instead of sixth and an extra two points; McLaren which gains fifth and sixth rather than seventh and ninth which brings a big windfall of five extra points and Jordan which now has Timo Glock and Nick Heidfeld in the points and gets three points. These could be very significant changes in the course of the season as McLaren is now much closer in its fight with Sauber and Jordan had vaulted ahead of both Toyota and Jaguar. Williams is the big loser dropping from 48 to 36 points, 16 points behind BAR-Honda rather than being just three points behind.

Williams's new technical director Sam Michael said that although the front brake ducts are not in accordance with the regulations: "it was a mistake and it was unintentional. There was no performance gain and no gain for brake cooling

because the inlet area was not bigger. However the ducts are not in compliance with the technical regulations. Therefore we accept the FIA's decision."