FEBRUARY 1, 2004
BAR launches in Barcelona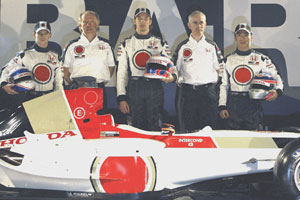 BAR-Honda has launched its new 006 chassis in Barcelona. The new car represents another major step forward in terms of performance for the team and team boss David Richards says that he hopes that the team will be fighting for podiums in 2004. The car is an evolution of the 005, but the teams says it is a further step forward in terms of design and build quality and the result of a more challenging and innovative approach. The chassis is stiffer and lower than the 2003 car and because of the regulation changes features a smaller fuel tank. The car has a completely new gearbox featuring a full carbon-composite maincase, together with narrow, lightweight gear ratios which afford a very substantial weight reduction at the rear of the car. There are further weight-saving features throughout, with the use of metal matrix composites and simplified componentry.

The new engine and chassis allow a slightly shorter wheelbase, and the aerodynamic package has been optimised. BAR has used the results of track testing last year to identify a new strategy in aerodynamic development, and the new car has been developed in the wind tunnel using these new techniques. Although the change of aerodynamic regulations has slowed down the pace of improvement, the new car shows clear performance advantages in the tunnel over its predecessor.

Honda has produced a new engine to meet the challenge of the single-engine rule introduced for the first time this season. Although similar in concept to the 2003 unit, it too is a completely revised design, with much smaller dimensions, reduced weight and a lower centre of gravity.

The biggest change however is the switch to Michelin tyres and the team has done extensive tyre development work during the winter testing in readiness for the new season, using 1000 tyres during 10,000 kilometres of testing with an interim car.

"As we enter the third year of my tenure at BAR, a great deal of the groundwork is behind us and we are now in a position to provide a consistent challenge to the top three teams," says David Richards. "Our relationship with Honda has developed immeasurably, to the point where we now have a totally integrated engineering team, and the BAR-Honda 006 is testament to the strength of our partnership. Our driver line-up of Jenson Button and Takuma Sato provides us with an exciting combination of youth, experience and ambition, which has dramatically boosted the team's motivation to succeed. The whole operation is moving forward relentlessly and as each week goes by I see our team taking another methodical step towards our long-term goal of front line competitiveness."