OCTOBER 6, 2003
Bernie Ecclestone's successor?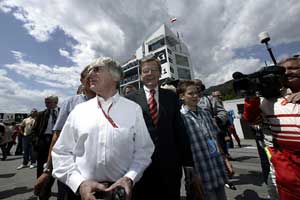 The Formula 1 team principals met last week and it is said that Bernie Ecclestone informed them that his chosen successor as head of SLEC is Marco Piccinini. This is not a surprise, indeed Piccinini was named as Ecclestone likely successor back in 1998. Piccinini and Ecclestone have been close since the 1970s when they and Max Mosley negotiated the first Concorde Agreement. At the time Piccinini was the sporting director of Ferrari, a role he held between 1978 and 1988.

A racer in his youth (like both Ecclestone and Mosley) Piccinini was picked from obscurity in 1977 when Enzo Ferrari was looking for a new Sporting Director. He decided that the discreet 25-year-old, the son of his banker in Monaco, would be the perfect man to be his eyes and ears in F1. He proved himself to be an adept political player during the FISA-FOCA war of 1980 and continued to run the team until the Fiat takeover of Ferrari after the death of Enzo Ferrari. After being dropped in 1991 Piccinini became the president of the CSAI, the Italian national sporting authority, and as a result took a seat on the FIA World Motor Sport Council. He resigned from the CSAI post in 1994 after a battle over the future of the Italian GP but stayed on as Italy's representative at the FIA and in June 1998 he was elected Deputy President of the FIA.

When in 1997 Ecclestone issued details of the planned structure of Formula 1 Holdings Ltd. after its flotation, Piccinini was named as deputy chief executive. In recent years Piccinini has concentrated on running the Principe Societe de Banque de Monaco, the family bank.