JUNE 5, 2003
BAR and PPGI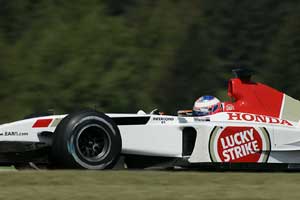 The case between British American Racing and Partnership Production Group International (PPGI) is rather more complicated than perhaps appearances have suggested. France Corbeil, a Canadian television producer, negotiated a deal on behalf of his company PPGI with Formula 1 boss Bernie Ecclestone to acquire and exploit all inactive F1 TV rights in Asia. Having done that Corbeil went to British American Tobacco and agreed a long-term sponsorship deal for the programming, which was going to regions where BAT was very keen to advertise. PPGI broadcast live or same-day tape-delayed programs to 25 stations in the People's Republic of China and to the Indian state broadcaster Doordarshan.

As en extension of that deal, PPGI agreed to help BAR find sponsorship and negotiated a five-year deal with Teleglobe. This was signed in January 1999 with Teleglobe becoming the major secondary sponsor of the team. The deal was worth an estimated $12m a year and the commission on the deal claimed by Corbeil is around $3.2m. There seems not to have been a contract signed between the two parties over this commission. Corbeil apparently has considerable correspondence relating to the deal dating from 1998-1999 but afterwards the company was in a difficult position as BAT was its principal sponsor on the TV deal, it was not in the company's interest to make a fuss about the commission on the Teleglobe sponsorship. BAT's Tom Moser did sent PPGI a draft of a waiver saying that the company would not claim a percentage on the deal but this was not signed by PPGI.

In 2002 BAT decided that it no longer wanted to fund the Asian TV coverage and withdrew funding. PPGI and F1 boss Bernie Ecclestone tried to find a replacement backer but this was unsuccessful and after the Spanish GP last year PPGI lost the rights. By then BAR had a completely new management, largely unaware of the arrangements which had been made by the original BAR executives and Corbeil.

Corbeil claims that BAR and BAT have both refused to discuss the commission. He sent several letters to the new management but never received a reply and thus decided to take legal action. Corbeil was unable to get an order to seize BAR equipment at the Grand Prix but was granted the right to try a private seizure, which can be done in Monaco. This was granted, unbeknownst to BAR, on the Wednesday before the Monaco GP, by Philippe Narmino, the president of Monaco's Court of First Instance.

BAR was irritated by the way in which Corbeil acted, which left them with no options and was also unhappy about suggestions he made in the press that the team has no money. Corbeil is annoyed that he has not been paid the commission he claims. The entire business will now have to be sorted out in the Monaco courts with a hearing scheduled at the end of the month.

While some see Corbeil's fight as being that of a small entrepreneur against a cynical and monolithic corporation, one must remember Sam Goldwyn's famous remark that "a verbal contract ain't worth the paper it's written on."