APRIL 19, 2003
Jaguar admits to problem in Brazil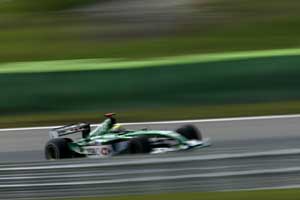 Jaguar Racing, so impressive in Brazil two weeks ago, has admitted that Mark Webber's car was not going as quickly as it might have done because of a fuel pick-up problem which was not solved after the Malaysian GP. This meant that Webber had to run with much more fuel in his car than other drivers and so lost time. The team tested at Silverstone last week and the problem has now been sorted out, and the team's head of operations Dr. Mark Gillan says that the Ford offshoot will go into the San Marino Grand Prix on an equal footing with its rivals - for the first time.

Webber was fifth fastest on Friday.

"We have out-qualified both Renaults and McLaren in true qualifying trim," Gillan said. "It's very clear to see the progress we have made relative to last year."

But former team boss Niki Lauda, in Imola as a TV commentator, could not resist a little dig at his old team. While recognizing the progress that has been made Lauda said that he was mystified as to why Antonio Pizzonia is not performing as well as he should be.

"I really don't know what they are doing to be honest but Pizzonia would need more guidance from the top," he said. "...which nobody will do there, I guess."