APRIL 16, 2003
Fernando Alonso in for a ticking off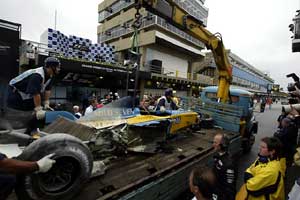 Fernando Alonso was lucky to emerge unscathed from a 150mph crash at Interlagos 10 days ago and equally lucky to end up on the podium in the race as a result of his own accident which resulted in the race being stopped.

But Alonso is unlikely to get through the drivers' briefing in Imola without a stern talking-to from officials and possibly from some of the other drivers as well. There is evidence which suggests that Alonso may have been involved in a number of overtaking maneuvers while yellow flags were being shown. He was penalized for one of these but Jacques Villeneuve reported that he had been passed by Alonso when the caution flags were being shown and there was certainly no punishment for that.

It is anticipated that the authorities will also want to make sure that Alonso understands that travelling as fast as he was when he hit wreckage from Mark Webber's accident, more than a minute after the crash and despite having seen yellow flags and Safety Car boards around the track, was not a very wise thing to do.