AUGUST 2, 2002
Arrows looking for new driver as Frentzen goes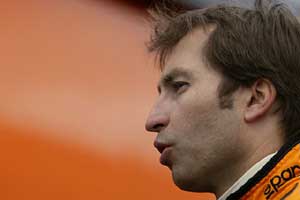 OrangeArrows and Heinz-Harald Frentzen have agreed to go their separate ways. Frentzen informed the team that he no longer wanted to drive for them and, presumably because there was no choice involved, the team agreed to let Frentzen go.
The fact that Frentzen is walking from Arrows would seem to suggest that he has somewhere to go to and this will no doubt create all manner of speculation about possible deals for the future. In recent weeks his name has been linked to drives with Sauber, Jordan and Toyota and it is possible that any one of the three might find a space for him with immediate effect, although this would involve all kinds of contractual acrobatics. However in F1 such things are rarely impossible
Arrows announced that it will announce Enrique Bernoldi's new team mate "in due course".