JANUARY 4, 2002
New Jaguar R3 should be quicker, lighter and more competitive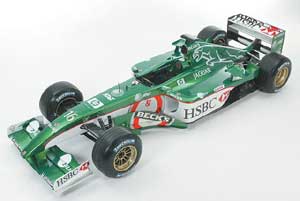 THE new Jaguar R3 was unveiled this morning (4 January) at the British team's headquarters in Milton Keynes and will be rushed to Barcelona's Circuit de Catalunya over the weekend for its first test in the hands of Eddie Irvine next Tuesday.
After a disappointing 2001 season, chief designer John Russell and chief aerodynamicist Mark Handford were given a brief from team principal Niki Lauda to produce a more ambitious design for the coming season.
Conceived with the aim of achieving outstanding aerodynamic efficiency without compromising the more traditional race-car attributes of low weight, low center of gravity and good torsional stiffness, its distinctive high-nose shape is the result of considerable wind tunnel research and the innovative use of laminates and construction methods.
"By comparison, R2 was arguably overly robust in some areas," said John Russell. "Therefore, with R3 we have been able to focus on reducing weight and improving aerodynamic performance, while building on the already proven qualities of the suspension, engine and transmission."
"The engine and gearbox packaging constraints were frozen in mid- August 2001, which freed up a lot of time to work on the detail design of the rear suspension.
"As we are retaining the Cosworth V10 power, the engine installation of R3 is quite similar to that of R2. Likewise, the rear suspension builds on past experience but is a more radical re-interpretation of existing components."
Though an evolutionary design, the Jaguar R3's gearbox has also been subject to a rigorous weight reduction program. But it is the external design of the Jaguar R3 that is most striking. The distinctive higher nose angle hints at the reduced cross-sectional area of the chassis, which in simple terms is intended to better penetrate the air.
"For optimum aerodynamic efficiency, you want a car's nose to be as high as possible," explained Mark Handford. "But if you do this, you will raise the bulkhead and a driver's legs, which in turn raises the center of gravity. Even so, we have managed to give R3 a high-ish nose, higher certainly than the one we fitted to the R2."