SEPTEMBER 15, 2010
Villeneuve still pursuing F1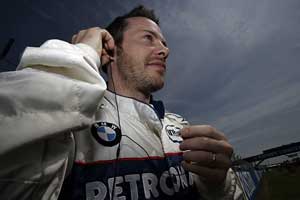 © The Cahier Archive
Despite not being allocated a slot on the 2011 F1 grid as a new team, in association with the Italian Durango outfit, it seems that 1997 world champion Jacques Villeneuve has not abandoned his hopes of returning to the F1 scene.
Former BAR director Rick Gorne has renewed a long association with Villeneuve to seek backing for the team and it is believed had sourced a year's funding, prior to the FIA's announcement that there would be no 13th team next year. As is well known, however, it is often the second year of operation that is the toughest challenge for any new race team.
It is now thought that Villeneuve could look at a buy-out or partnership with one of F1's existing teams, with HRT the obvious target as rumours circulated Monza that the team may not be in a position to complete its debut season.
"The only way to enter F1 in 2011 is to buy an existing team," Durango's Giuseppe Dorigo told the Italian media at Monza. "As planned, we will do it together with Jacques Villeneuve. We believe it's worth it. Our only goal now is to be on the starting grid next year."
Other stories for SEPTEMBER 15, 2010