OCTOBER 12, 2016
Honda satisfied but not happy with 2016 says Hasegawa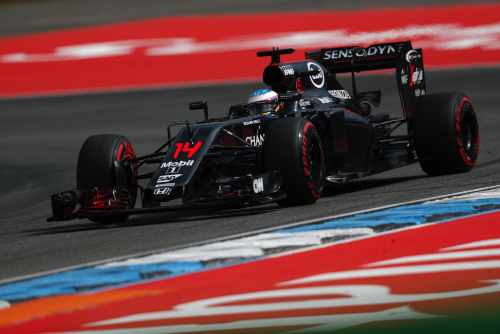 © Active Pictures
Honda is "satisfied" rather than "delighted" with the progress it has made in the works collaboration with McLaren in 2016.
The Japanese manufacturer has made steady progress this year after a disastrous return to F1 in 2015, although the McLaren-Honda struggled for pace at home at Suzuka.
Suzuka aside, Honda's F1 boss Yusuke Hasegawa was asked if he is delighted with the progress the marque has made in 2016.
"I cannot say that we are delighted -- rather, we are satisfied," the Japanese told the French magazine Auto Hebdo.
"We have achieved a lot but we are still far from our goal. The improvement of the engine was good, but not enough."
Hasegawa admits that, after the disaster of 2015 and taking over from Yasuhisa Arai, the pressure was on this year.
"We do not have an instrument for measuring pressure," he said, "but obviously it was very great.
"The atmosphere was very nervous at first, but now, thanks to the progress made, it's much better. Some results have been encouraging, so now we feel more motivation that tension and this makes a big difference."
Hasegawa says Honda's biggest gains in 2016 was in the area of energy recovery.
"The system is at the level of our competitors, and in some respects it is even better than our competitors," he insisted. "But the internal combustion engine is still inferior."
In that way, he is relieved that the 'token' system that restricts performance-based engine development is being scrapped for 2017.
"So some extent, yes (there is relief)," Hasegawa admitted. "But although this token system disappears next year, that is not to say the problem disappears -- technological limitations will remain."
But he thinks that, eventually, all of the engine manufacturers in F1 will be performing on an equal playing field.
"With regard to equality, I believe that in time it will come by itself and should not be a consequence of any artificial restrictions," said the Japanese.
As for Honda's remaining goals in 2016, he said: "We can now expect a much better engine efficiency.
"In the remaining races both cars should get to the final stage of qualifying and earn points, so that we can go into the winter break in good spirits.
"I need more than that, but it makes no sense to set goals too high. I need to make sure we have an end of season that is a good basis to prepare for 2017," added Hasegawa.
(GMM)
Other stories for OCTOBER 12, 2016