OCTOBER 12, 2016
Father has fingers crossed for Magnussen's future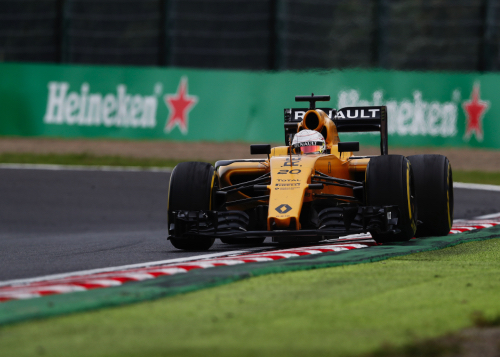 © Active Picturs
Kevin Magnussen's father has admitted the young Dane could once again be left standing when the 'silly season' music ends.
The latest authoritative reports suggest that Magnussen, 23, will definitely be ousted by the works Renault team, replacing him and Jolyon Palmer with Nico Hulkenberg and another candidate.
The Danish newspaper BT said Magnussen himself and his advisor Jesper Carlsen are not commenting.
But Magnussen's father, the former F1 driver Jan Magnussen, said: "I've only heard rumours, but as far as I know nothing has been decided yet.
"Renault asked to extend his option and on that date (October 14) we may know some more."
Jan said he hasn't spoken to his son since the latest Hulkenberg rumours exploded, but he said the stories don't surprise him.
"This is formula one and it's the time of year for all of that: rumours and wishful scenarios from different people."
But when asked if he fears that Magnussen will be left without a seat, Jan admitted: "Yes, of course I do.
"I know that formula one is formula one and you can't count on anything. In that way, it is not a fun place to be."
"But until there is something concrete, you can't do anything. Ultimately, the decision is Renault's and they must take it very soon.
"My very clear sense is that Kevin would like to stay with Renault and help with the development he has helped to start, but should it not happen, there is something else.
"He is a racing driver, so if he doesn't race in one place, he will race somewhere else. Until then Renault has extended the option, and then they will come back with an answer.
"After that, Kevin will act accordingly. The decision is still coming at a time when there is time to do something else," Jan added.
(GMM)
Other stories for OCTOBER 12, 2016