AUGUST 29, 2016
Alonso retirement would be a shame says Hamilton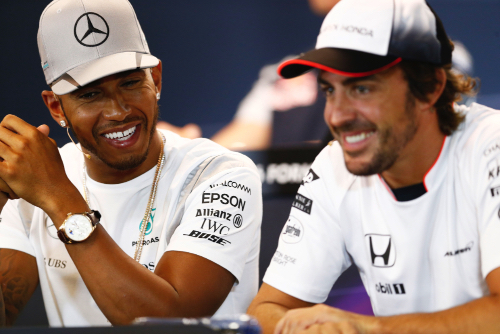 © Active Picturs
It would be a "real shame" if Fernando Alonso was lost to formula one after 2017, according to his former McLaren nemesis Lewis Hamilton.
Alonso said at Spa that, having enjoyed and thrived in the V10 and V8 eras, he sees modern F1 as comparatively "sad".
"Cars are heavy," he said. "No grip. We save fuel, we save tyres, we save everything."
Alonso said a lot is riding on the 2017 rules, because if the cars are not significantly better, "probably I will stop".
Arguably, the downwards trajectory of Alonso's career post 2006 has something to do with Lewis Hamilton, with whom he clashed so badly at McLaren.
"I don't feel that way," Hamilton told El Pais newspaper at Spa.
"It was a period (2007) in which I learned a lot and I think he did too. From there, we both made decisions that led to where we are now, but I honestly don't think I had much influence on his current situation.
"For me, he is still one of the best drivers out there, and I would love it if McLaren give him a car that he can fight to win again and I can battle him again too.
"I think if Fernando retires at the end of next year and I can't compete with him again, it would be a shame -- a real shame. It would not be good for formula one to lose someone of his level of talent," Hamilton added.
And Hamilton, charging for his fourth world championship in 2016, thinks there is a very real possibility that Alonso will retire, as he has doubts that the 2017 rules revolution will really deliver on its promise.
He said: "Fernando is 35 years old and has already earned enough money, done enough racing and got enough experience. He's a legend and he's earned the right to leave.
"At the end of the day, he should fight for the world championship each year but doesn't have the chance. I think in this last period, he has coped really well -- I'm not sure in the same situation I would have, racing at the back, at a team that theoretically should be up front.
"I'd love to fight with him again," Hamilton said.
(GMM)
Other stories for AUGUST 29, 2016