British GP 2006
British GP, 2006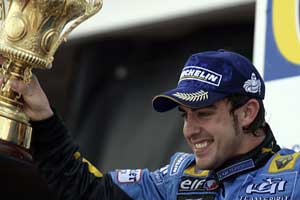 In Spain eminent men are given the courtesy title of Don and for Fernando Alonso such a title would be doubly apt as he lives in Oxford, a seat of great learning where the academic dons deliver their lectures. Don Alonso gave everyone a lesson in race car driving on Sunday at Silverstone. It was nicely-constructed and beautifully-delivered but like some lectures it was not really that exciting.

Michael Schumacher summed it up neatly after the race by pointing out that it had been a pretty dull race for the drivers and it had been much the same for the fans.

"There wasn't much excitement there," said Michael. "It was probably a lonely race for Fernando, there was a bit of action between me and Kimi but it wasn't that exciting. So there's no reason for us to jump around as if something particular has happened."

The sport needs a little more excitement than this if it is to compete with the soccer World Cup in the next few weeks.

Alonso did not quite lead the race from start to finish (because Giancarlo Fisichella led one lap during the second pit stops) but there was never any doubt that Fernando was going to win this one.

The Don flowed on and on.

It was Fernando's fifth win in eight races and takes him to a position in which he can afford to sit back and let others win. He has scored 74 points from a possible 80 and with 10 races to go Fernando could finish second to Michael Schumacher in every one of them and would still win the World Championship.

But Alonso has given noticed that this will not be his intention.

"The best defence from now on will be attacking," he said. "We are going to keep on winning."

That is bad news for his rivals.

Alonso had little to do after he had fended off an early attack from Kimi Raikkonen after a Safety Car intervention which was caused on the first lap by Scott Speed bonking Ralf Schumacher from behind and putting him into a half-spin. Ralf realised his car was damaged and gave up and pulled to the right without looking and went straight into the path of the ever-unfortunate Mark Webber. That was the end of the day for all three men. The FIA Stewards might have smacked Ralf's wrist but they decided not to punish anyone as everyone involved seemed to agree it was a racing incident.

'  Alonso pulled away from Raikkonen after that and left the Finn to dice with Michael Schumacher for a while. At the first stops Schumacher failed to get ahead of the McLaren but during the second stops it was done and dusted.

"We were a bit too slow in a straight line to challenge anyone," said Kimi. "Third place was the maximum we could have done today, I think."

Behind them came Felipe Massa, Juan Pablo Montoya and the BMWs of Nick Heidfeld and Jacques Villeneuve

Honda, Williams and Toyota played no real part in the action. Local hero Jenson Button was trying to make up for his horrible qualifying session when the oil decided to divorce the engine and the result was a barbecued Honda V8 although the Honda men noted after the race that the engine itself did not seem to have been the problem. Rubens Barrichello ran around in the midfield.

After Webber's demise only Nico Rosberg remained for Williams and he finished a dull ninth, while Ralf Schumacher's demise was followed by Jarno Trulli coming home 11th. Three Red Bull cars also finished but the only thing to report was that Tonio Liuzzi split David Coulthard and Christian Klien by running a unique one-stop strategy.

If there were any lessons to be learned in the race, it was that the qualifying performances of Michael Schumacher and Kimi Raikkonen had only been achieved by the Ferrari and McLaren teams running the cars much lighter than Renault ran Alonso. Michael stopped four laps before Fernando and Kimi went only one lap further than Schumacher. Taking pole with that kind of a fuel disadvantage was an impressive performance.

The teams now head off to Monza where a number of them are going to try out new flexible wing set-ups in preparation for the Canadian GP where straightline speed is of key importance. If Renault wins there as well, then Michael Schumacher might as well give up trying to win this year's title and start to decide what he is planning to do in 2007.
British Grand Prix Results - 11 June 2006 - 60 Laps
POS
DRIVER
NATIONALITY
ENTRANT
TIRE
LAPS
TIME/RETIRE
1.
Fernando Alonso
Spain
Renault
60
1h25m51.927
2.
Michael Schumacher
Germany
Ferrari
60
13.951
3.
Kimi Raikkonen
Finland
McLaren-Mercedes
60
18.672
4.
Giancarlo Fisichella
Italy
Renault
60
19.976
5.
Felipe Massa
Brazil
Ferrari
60
31.559
6.
Juan Pablo Montoya
Colombia
McLaren-Mercedes
60
1m04.769
7.
Nick Heidfeld
Germany
Sauber-BMW
60
1m11.595
8.
Jacques Villeneuve
Canada
Sauber-BMW
60
1m18.299
9.
Nico Rosberg
Germany
Williams-Cosworth
60
1m19.009
10.
Rubens Barrichello
Brazil
Honda
59
1 Lap
11.
Jarno Trulli
Italy
Toyota
59
1 Lap
12.
David Coulthard
Britain
Red Bull-Ferrari
59
1 Lap
13.
Vitantonio Liuzzi
Italy
Toro Rosso-Cosworth
59
1 Lap
14.
Christian Klien
Austria
Red Bull-Ferrari
59
1 Lap
15.
Christijan Albers
Netherlands
MF1-Toyota
59
1 Lap
16.
Tiago Monteiro
Portugal
MF1-Toyota
58
2 Laps
17.
Takuma Sato
Japan
Super Aguri-Honda
57
3 Laps
18.
Franck Montagny
France
Super Aguri-Honda
57
3 Laps
R
Jenson Button
Britain
Honda
8
Engine
R
Scott Speed
United States
Toro Rosso-Cosworth
1
Damage
R
Ralf Schumacher
Germany
Toyota
0
Accident
R
Mark Webber
Australia
Williams-Cosworth
0
Accident
FASTEST LAP:
Fernando Alonso
Spain
Renault
21
1:21.599