Bahrain GP 2006
Bahrain GP, 2006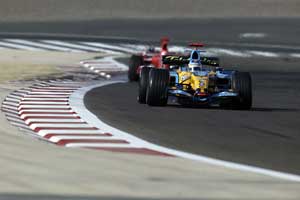 Fernando Alonso won the Bahrain Grand Prix, which was really not a big surprise. The thing that grabbed our attention, however, was how he did it and how tough it was to do. Right behind him at the finish was Michael Schumacher's Ferrari and that was a surprise given the team's pre-season performance. But don't worry yourself about this year being dominated by one team. It would be very surprising if that were to happen because at least four teams looked like winners and a fifth could pick up the pieces. It is a danger to make too many guesses about things after just one race but after Bahrain Formula 1 in 2006 looked more exciting than before the race.

Things were not helped by the way in which the weather changed backwards and forwards in the course of the weekend. The winds were still fairly strong on Sunday morning but the temperature was a great deal higher than what had been a chilly Saturday. If one follows the conventional logic during the winter months, a hotter track should have been an advantage for Bridgestone as the tyres have seen during the winter tests to start working only at a certain temperature. But that also depends on the car in question. During the weekend in Bahrain Toyota never seemed to get their cars into the ballpark and it looked pretty horrible. But will that be the same story in Malaysia? If it is, there is going to be trouble, but perhaps a few more degrees will change the balance of power in F1. And perhaps not!

The first race of any season is regarded with a great deal more expectation that a race in July and August by which time we know the patterns that develop. At the start of a season, everyone is a little in the dark. In addition to that drivers are keen to get a good start to the year and often in the past there have been bingles and bungles at the first corner. And there is nothing like a crash to screw up the best laid plans.

Qualifying had been very hard to read because of the mystery about fuel loads and tyre performance. When it came to the start of the race it was, in fact, rather more to do with software. The two Ferraris raced off the line but behind them Alonso was the fastest of all (as Renaults often are). Montoya's McLaren went away well too but the man who suffered in all of this was Button. In a matter of seconds Jenson was overtaken by Alonso, Montoya and Barrichello.

Down at the first corner Alonso never really had the chance to grab the lead as Massa was able to hold him back and thus Michael Schumacher was in the lead. Alonso was third with Montoya, Barrichello and Button giving chase. That lasted just a few corners before an urgent Alonso outmaneuvered Massa and went up to second. Further back through the field there was adventure for others as Raikkonen went from 22nd on the grid to 13th at the end of the lap, aided by the fact that Nico Rosberg spun his Williams at the first corner; Christijan Albers was immediately out of action because of a driveshaft failure and his team mate Tiago Monteiro found himself starting the race from pitlane.

In those early laps Michael was able to edge away from Alonso, a tenth here and a tenth there. It was not unexpected. But was it enough to build up enough of a lead to make up for the early stop?

"We thought that the fuel load was significantly different," said Alonso, "and it was not the time to push at that stage."

In those early laps as Alonso kept his powder dry, all the really quick cars down through the field began to make progress, particularly Raikkonen, who quickly worked his way from the back of the grid up into the midfield.

There was plenty of action beginning with the tussle between Button and his Honda team mate Rubens Barrichello. Jenson was feisty but it still took Jenson a number of tries to get things sorted out.

After that the focus was on Massa's chase of Alonso for second place. And then on lap eight the Ferrari snapped out of control at the first corner and spun down the inside and almost took out the Renault. It was very close.

"There was nothing I could do," said Alonso. "The speed was too quick and you have no reaction time. I was lucky."

That was the end of Massa in terms of a serious challenge for World Championship points. He pitted and spent the rest of the day trying to win back the lost time, made worse by struggles to get one of the wheels off his car.

Button was closing on third placed Montoya all the while and on lap 11 he went ahead. At the same time Webber went ahead of Fisichella which suggested that the Williams was a good car. That is perhaps true but it later emerged that Fisichella had problems with his Renault engine, a repeat of troubles he had had in qualifying. It was not the start of the year that Fisichella would have wanted.

"I lost power all the way through the rev range and the car was much slower on the straights,' he explained. "I was still able to fight with the cars around me, but I was a long way from the potential we could do with full power."

In the next laps we waited to see who was going to stop first an this was to provide a few surprises. But not at the sharp end: on lap 15 Schumacher was the first major runner to pit. The Ferrari had been light on fuel as everyone had suspected. By that point Michael had a lead of around eight seconds and that meant that Alonso went ahead, Button moved up to second with Montoya third and Michael fourth.

Barrichello and Fisichella were both early into pitlane and fell back through the order and never played a major role after that as Fisichella dropped out with an hydraulic failure and Barrichello cruised around for the rest of the afternoon with a gearbox problem.

Alonso managed to go three laps further than Schumacher but could not quite manage to get out ahead of the Ferrari.

"In the first stint, Michael was too quick," said Alonso.

But after 20 laps the Renault seemed to get quicker and was on the same pace as the Ferrari. Soon it was Alonso putting on the pressure and Michael who was on the back foot.

The others were all pitting around this period and the lead went briefly to Montoya, who was running with a heavy load of fuel. He stopped on lap 23 and Webber went in at the same time and so the battle between Schumacher and Alonso became the battle for the lead again. Raikkonen was still running without a pit stop as he had started the race with a tank filled with fuel and had by now moved up to third. His one-stop strategy was looking good. Coulthard too was running with just one stop but he could not run as fast as the McLaren.

The fastest man in this period of the race was Button who once again came up to Montoya and once again drove right by the Colombian, to move to fourth place. This became third when Raikkonen finally pitted on lap 30 and second when Michael stopped on lap 36. The Ferrari rejoined just behind Jenson and it was clear that this was the key moment in the race. Alonso needed to get an advantage in the extra laps he had available to him.

"It was absolutely vital for me to get out the pits ahead of Michael at that last stop," Fernando explained. "It was the only opportunity to win the race and I was going for it. I really knew that the car was tougher than Michael's, especially the first 10 laps on the tyres. So it was my moment, I knew that if I was in front of him at the exit of the pits, the race was for me. I really pushed."

Schumacher was pushing too and it was obviously going to be close.

It all happened on lap 39 (three laps after Michael's stop) when Alonso headed for the pits. It was a moment of high tension and excitement. Button went through into the lead but we knew that he would stop again and all eyes were on Alonso as he accelerated away as Schumacher came down the straight at high speed. It was going to be close. Very close.

The two men dived into the corner together. Alonso was on the inside and came out ahead. That was it. And Michael knew it.

"Once you're behind, you have to wait for a mistake or a bad situation with a backmarker," he said. "It didn't really occur, so I just sat and waited and watched."

Alonso watched his mirrors, waiting for a charge as the Bridgestone tyres got better.

"I knew that at the beginning of the stint maybe the Michelin tyres were a little bit better and at the end maybe the Bridgestone tyres would be better. So I knew that at the end, the last four or five laps, we would have some problems with Michael. I was a little bit conservative and I really conserved the tyres to the end."

With a handful of laps to go Michael got closer but then the Ferrari fell away again. The game was over and Alonso had won. But it had been a very close battle.

"We're very close," Michael explained. "I'm not sure if anybody has the advantage over anybody. Probably, if you analyse, Kimi has done a very fast race, so we'll have to wait and see. Development is a key factor and we'll see who has the better base on that."

Raikkonen's strategy put him ahead of Button after Jenson's last stop on lap 40. Montoya was ahead of them for a few more laps but then he stopped on schedule and so their battle became the fight for third place. Button pushed hard by Raikkonen held him off.

"We knew that we had a good chance to score some points," said Kimi, "but it really depends on the first few laps and whatever happens during the race. I got quite a few places in the first corner and I was able to follow and overtake people who were lighter. We ran quite a bit longer than anyone else so we were able to gain some places and in the end, the Honda came behind me. It was a little bit difficult because I had quite old tyres which had done many laps, and he was behind me with brand new tyres, so I needed to look out for him but I was able to keep him behind for five laps and then I knew that his new tyres weren't going to be as good any more so I was able to take it easy."

And thus Button was fourth and wondering no doubt what might have happened if he had not lost the places at the start.

"After the first three seconds it was a good afternoon," Button said. "We screwed the start, otherwise we would have been fighting with the two leaders, I'm sure of it."

Montoya was by now a lonely fifth and Webber was alone in sixth, turning in solid lap times but never being able to shine because there were no slower cars around him. The excitement was created by his new Williams team mate Rosberg who had spent the afternoon catching up after his early indiscretion. He drove well, the car was good and he had some cars ahead which could not compete with him and so he looked very good indeed. He overtook Coulthard for eighth on lap 49 and Klien for seventh on lap 56 and thus he came home to score a point on his debut. He also set the fastest lap. It was a very good effort and no doubt there will be much excitement about him but let us not lose track of the fact that he qualified behind Webber and finished behind Webber. There is a lot of potential there and clearly the Williams is a strong car when the tyres are working. In cooler conditions testing has shown that it does not work quite as well but perhaps Bridgestone will have different tyres by the time the F1 circus gets into cooler climes.

"Our final positions today don't reflect our real pace as the car was fast and we were perhaps a bit too conservative on our pit stop strategy," said Sam Michael. "It is clear that we have a strong car aerodynamically and mechanically. The tyres worked fantastically, we couldn't have asked for better, as our long runs on Friday with Alex indicated. Unfortunately on qualifying day, the track was a bit too cool for our compound compared to the other Bridgestone runners. Today the compound was perfect."

Rosberg was delighted. "I really enjoyed myself today," he said, "and the final result was a good outcome. Unfortunately I made a mistake at the first corner but I really enjoyed fighting my way up. The final result - seventh place and the fastest lap of the race - is more than I could have hoped for in my first race."

The final point of the day went to Christian Klien in his Red Bull and that was a good effort although the team was never really on the pace of the fast boys. Klien did a sensible job and stayed out of trouble and his strategy gave the team the reward. David Coulthard was not as fortunate.

"In the second part of the race I flat-spotted a tyre and got a lot of vibration and I couldn't read the dials on the steering wheel," he said. "I was wondering whether the front suspension was going to hold together and then to cap it off my engine blew up on the slowing down lap at the end of the race."

That means that DC must take a 10-place penalty in Malaysia.

Massa finished ahead of him in the end after a busy day and the last man unlapped was Tonio Liuzzi in the Toro Rosso. It was an odd weekend for the team because the early performace seemed to disappear but there seemed to be no real reason why. The level of performance was a little better than the old Minardis of yesteryear but not as good as one might have expected with the rev-limited V10. It was a mystery. Scott Speed did a solid job on his F1 debut but might have been hoping for more than 13th.

Between Liuzzi and Speed was Heidfeld. He had lost a lot of time at the start when Rosberg spun and looked strong as he fought back. The fastest laps of the race suggest that result was about right but probably the BMW is a bit quicker than the Red Bulls. Jacques Villeneuve had a decent race but this ended with a very smoky engine failure.

Ralf Schumacher and Jarno Trulli finished 14th and 16th which meant that this was not a classic weekend for Toyota. In fact the word "disaster" seemed a little more apt.

"The Toyotas did struggle to use their maximum potential," said Bridgestone's Hisao Suganuma. "We shall try to help them after analysing the data."

Both drivers complained of a lack of grip and no-one seemed able to understand it.

Down at the back MF1 Racing and Super Aguri both got one car home. Monteiro started in the pitlane and finished 17th while poor Christijan Albers went out at the start with a gearbox failure.

Down at Super Aguri F1 the team was simply happy to see a car make it to the end. The team should be commended for achieving an astonishing programme in recent weeks and, in the words of the song, "Who could ask for anything more?"

And indeed that seems a good thought on which to end. It was a great race and the rest of the season looks like being a lot of fun if the races are going to be this good. Things will change but there are at least four teams and possibly five that could win this year.

And that does not happen very often!
Bahrain Grand Prix Results - 12 March 2006 - 57 Laps
POS
DRIVER
NATIONALITY
ENTRANT
TIRE
LAPS
TIME/RETIRE
1.
Fernando Alonso
Spain
Renault
57
1h29m46.205
2.
Michael Schumacher
Germany
Ferrari
57
1.246
3.
Kimi Raikkonen
Finland
McLaren-Mercedes
57
19.360
4.
Jenson Button
Britain
Honda
57
19.992
5.
Juan Pablo Montoya
Colombia
McLaren-Mercedes
57
37.048
6.
Mark Webber
Australia
Williams-Cosworth
57
41.932
7.
Nico Rosberg
Germany
Williams-Cosworth
57
1m03.043
8.
Christian Klien
Austria
Red Bull-Ferrari
57
1m06.771
9.
Felipe Massa
Brazil
Ferrari
57
1m09.907
10.
David Coulthard
Britain
Red Bull-Ferrari
57
1m15.541
11.
Vitantonio Liuzzi
Italy
Toro Rosso-Cosworth
57
1m25.997
12.
Nick Heidfeld
Germany
Sauber-BMW
56
1 Lap
13.
Scott Speed
United States
Toro Rosso-Cosworth
56
1 Lap
14.
Ralf Schumacher
Germany
Toyota
56
1 Lap
15.
Rubens Barrichello
Brazil
Honda
56
1 Lap
16.
Jarno Trulli
Italy
Toyota
56
1 Lap
17.
Tiago Monteiro
Portugal
MF1-Toyota
55
2 Laps
18.
Takuma Sato
Japan
Super Aguri-Honda
53
4 Laps
R
Yuji Ide
Japan
Super Aguri-Honda
39
Mechanical
R
Jacques Villeneuve
Canada
Sauber-BMW
29
Engine
R
Giancarlo Fisichella
Italy
Renault
21
Electronics
R
Christijan Albers
Netherlands
MF1-Toyota
0
Driveshaft
FASTEST LAP:
Nico Rosberg
Germany
Williams-Cosworth
42
1:32.408