Belgian GP 2002
Belgian GP, 2002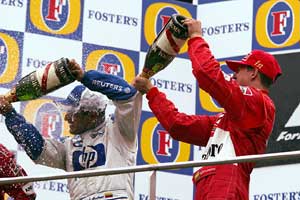 Another massacre at Malmedy...

THE town of Malmedy is famous - infamous one should perhaps say - for a massacre which took place there during the Battle of the Bulge in 1944. It was a nasty business and one can still stop by the site and see a very chilling memorial to the American prisoners who were machine-gunned there.

Thus, the use of the word "massacre" in the area has rather different sensitivities to normal race tracks and so on Sunday night the Formula 1 reporters were sitting around trying to find ways of describing the action they had seen - without using the word "massacre". But when all is said and done massacre is the only word one can use for Michael Schumacher's performance on Sunday. He showed once again that he is in a class of his own at the moment and with no theatrical direction to bring Rubens Barrichello into the picture, Michael chalked up his 10th win of the year - a record. It was his seventh on the road at Spa (although his win in 1994 was binned by the FIA for technical infringements). As a display of pure driving ability and technical domination the event was a something of a classic. Alas, if one considers Formula 1 to be an exercise in entertainment (which many do these days) it was a trifle dull.

But what is important to say on this occasion was that it wasn't just Ferrari domination that took the edge off the action. There was virtually no overtaking down through the field. The resurfacing of Eau Rouge and the current F1 technical regulations (particularly the reintroduction of traction-control) means that these days, the corner is flat all the way through for an F1 car. And so that means that the run up the hill is no longer so dependent on how well one went through Eau Rouge - and that meant that no overtaking was possible.

If ever there was a time when the technical regulations need to be looked at, now is that moment for the sport is in danger. One would expect a dull train of cars in Hungary or in Spain but at Spa one expects overtaking. The way things are now we will see a similar train of cars at Monza. Or at least some of us will because a lot of viewers will be turning off their television sets and going off to do something else and, as we all know, when that happens the money which feeds the F1 frenzy will start to dry up.

New technical challenges are needed to release the drivers from the current regulatory stranglehold. The big question is what can be done to create more overtaking possibilities without scaring away too many of the big manufacturers.

These are big questions which must soon be faced.

Until that happens we must wait and watch Ferrari grinding the opposition underfoot. The extent of the current domination was seen very clearly in qualifying when Michelin seemed (finally) to have found an advantage over Bridgestone. And yet so powerful is the current Ferrari package that the red cars can even overcome a tire disadvantage.

Michelin has nine cars in the top 12 and, interestingly, this was achieved with drivers using the two different Michelins compounds available. Michael Schumacher was on pole with Kimi Raikkonen second, Rubens Barrichello third and Ralf Schumacher fourth. Then came Juan Pablo Montoya and David Coulthard and the rest. The third Bridgestone car was 13th on the grid.

As usual the most important moment of the race was at the start but on this occasion there was never any doubt who was coming out of La Source in the lead. Michael Schumacher did it all perfectly and as Rubens Barrichello also did well, it was Raikkonen who was on the defensive, edging to his right to try to squeeze Barrichello out of the picture. But Rubens stayed where he was and pushed Kimi outwards. This caused a bit of a traffic jam as Montoya decided to follow Rubens on the inside. Jarno Trulli was looking decidedly wobbly on the outside and Raikkonen was in the middle with cars lined up behind him. The inside line was the one to have and so as they set off down the hill Schumacher was chased by Barrichello, Raikkonen, Montoya, Coulthard and the much-delayed Ralf Schumacher. By the end of that first lap Michael was more than two seconds clear of Rubens and we settled down in our seats for a longish afternoon.

"At least," chirped up a wag, "this race lasts half an hour less than Hungary."

There was an overtaking maneuver in the course of the second lap which caught most of us by surprise. Raikkonen had a big (huge might be a better description) slide just before Stavelot and lost some of his momentum and that allowed Montoya to scrambled ahead but after that the order was settled at the front and we watched Michael pulling away from Rubens who was pulling away from Montoya, who had to watch his mirrors because of Raikkonen. After 15 laps Schumacher was half a minute ahead of Montoya with Barrichello floating around in the No Man's Land between them. The pit stops came and went. Raikkonen lost time at that point and so Coulthard moved to fourth while Ralf Schumacher had a spin and then pushed a wrong button as he tried to rejoin and so dropped out of the top six, leaving Trulli in the points. After that it was just a question of watching the engines blow: Raikkonen went first and then came Trulli. This meant that Ralf moved back up to fifth and Irvine appeared in the points. And that is how it stayed.

Pedro de la Rosa was on his way to seventh place when his right rear suspension failed at high speed. He was fortunate not to make contact with anything in the ensuing accident. This meant that seventh place ended up in the hands of Mika Salo which was a good solid result for Toyota after a series of disappointments. The two cars were split by Villeneuve. Honda lost both Fisichella and Panis to large engine failures while Sato came home a long way behind because of a pit stop that went wrong early on. The Saubers looked dreadful but Felipe Massa did the better job as usual until his engine boomed leaving Heidfeld to circulate and finish 10th.

Minardi finished neither car: Webber disappearing with a gearbox failure early on and Davidson spinning out.

As for the racing, the best we saw all day was as the F1 trucks started to roll out of Spa in the late afternoon. The speed at which they had been packed and were on their way suggested that Spa is not as popular venue as was once the case. In fact most of the F1 circus seemed not to care much that Spa was done and dusted.

And that has to be a bit of a worry...
BELGIAN GRAND PRIX RESULTS - SEPTEMBER 1, 2002 - 44 LAPS

POS

DRIVER
NATIONALITY
ENTRANT
LAPS
TIRE
TIME/RETIRE

1.

MICHAEL SCHUMACHER
Germany
Ferrari
44

1h21m20.634

2.

RUBENS BARRICHELLO
Brazil
Ferrari
44

1.977

3.

JUAN PABLO MONTOYA
Colombia
Williams-BMW
44

18.445

4.

DAVID COULTHARD
Britain
McLaren-Mercedes
44

19.357

5.

RALF SCHUMACHER
Germany
Williams-BMW
44

56.440

6.

EDDIE IRVINE
Britain
Jaguar-Cosworth
44

1m17.370

7.

MIKA SALO
Finland
Toyota
44

1m17.809

8.

JACQUES VILLENEUVE
Canada
BAR-Honda
44

1m19.855

9.

ALLAN MCNISH
Britain
Toyota
43

1 Lap

10.

NICK HEIDFELD
Germany
Sauber-Petronas
43

1 Lap

11.

TAKUMA SATO
Japan
Jordan-Honda
43

1 Lap

12.

OLIVIER PANIS
France
BAR-Honda
39

5 Laps

R

GIANCARLO FISICHELLA
Italy
Jordan-Honda
38

Engine

R

PEDRO DE LA ROSA
Spain
Jaguar-Cosworth
37

Suspension

R

FELIPE MASSA
Brazil
Sauber-Petronas
37

Engine

R

KIMI RAIKKONEN
Finland
McLaren-Mercedes
35

Engine

R

JARNO TRULLI
Italy
Renault
35

Engine

R

ANTHONY DAVIDSON
Britain
Minardi-Asiatech
18

Spin

R

JENSON BUTTON
Britain
Renault
10

Engine

R

MARK WEBBER
Australia
Minardi-Asiatech
4

Gearbox

FASTEST LAP: MICHAEL SCHUMACHER

Germany
Ferrari
15

1:47.176




DRIVERS CHAMPIONSHIP POSITIONS:

POS

DRIVER
NATIONALITY
ENTRANT

POINTS

1.

MICHAEL SCHUMACHER
Germany
Ferrari

122

2.

RUBENS BARRICHELLO
Brazil
Ferrari

51

3.

JUAN PABLO MONTOYA
Colombia
Williams-BMW

44

4.

RALF SCHUMACHER
Germany
Williams-BMW

42

5.

DAVID COULTHARD
Britain
McLaren-Mercedes

37

6.

KIMI RAIKKONEN
Finland
McLaren-Mercedes

20

7.

JENSON BUTTON
Britain
Renault

11

8.

NICK HEIDFELD
Germany
Sauber-Petronas

7

GIANCARLO FISICHELLA
Italy
Jordan-Honda

7

10.

JARNO TRULLI
Italy
Renault

4

FELIPE MASSA
Brazil
Sauber-Petronas

4

EDDIE IRVINE
Britain
Jaguar-Cosworth

4

13.

JACQUES VILLENEUVE
Canada
BAR-Honda

3

14.

MARK WEBBER
Australia
Minardi-Asiatech

2

MIKA SALO
Finland
Toyota

2

HEINZ-HARALD FRENTZEN
Germany
Arrows-Cosworth

2

OLIVIER PANIS
France
BAR-Honda

2




CONSTRUCTORS CHAMPIONSHIP POSITIONS:

POS

CONSTRUCTOR

POINTS

1.

FERRARI

173

2.

WILLIAMS-BMW

86

3.

MCLAREN-MERCEDES

57

4.

RENAULT

15

5.

SAUBER-PETRONAS

11

6.

JORDAN-HONDA

7

7.

BAR-HONDA

5

8.

JAGUAR-COSWORTH

4

9.

MINARDI-ASIATECH

2

TOYOTA

2

ARROWS-COSWORTH

2