Italian GP 1979
Italian GP, 1979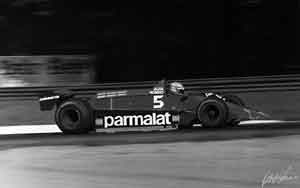 The field was slightly larger than normal at Monza with the return to the World Championship of Alfa Romeo which fielded a new 179 chassis for Bruno Giacomelli and the old 177 for Vittorio Brambilla, back in action for the first time since the crash at Monza the previous season. Ensign decided to give Formula 2 star Marc Surer a run in its car in place of Patrick Gaillard, while Hector Rebaque had his HR100 chassis ready for the first time.

In qualifying it was no surprise to see the powerful Renault turbos first and second with Jean-Pierre Jabouille ahead of Rene Arnoux. Then came Jody Scheckter (Ferrari), Alan Jones (Williams), Gilles Villeneuve (Ferrari) and Clay Regazzoni (Williams). The top 10 was completed by Jacques Laffite (Ligier), Nelson Piquet and Niki Lauda in the two Brabham-Alfa Romeos and Mario Andretti in the Lotus.

As usual the Renaults were slow off the line and so Scheckter grabbed the lead from Arnoux. Behind then Villeneuve grabbed third while Laffite made a good start to get into fourth place. Jones dropped to the back of the field. On the second lap Arnoux was able to pass Scheckter to take the lead and for the next few laps the five front-runners were nose-to-tail, while Regazzoni ran in a lonely sixth position. That lasted until lap 13 when Arnoux's car began to misfire and he dropped away leaving Scheckter, Villeneuve, Laffite and Jabouille by themselves. Later in the race Jabouille dropped away with engine trouble and Laffite stopped with a similar problem and so third place went to Regazzoni with Lauda, Andretti and Jean-Pierre Jarier (Tyrrell) picking up the other points.

The victory gave Jody Scheckter the World Championship.