German GP 1979
German GP, 1979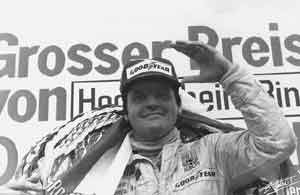 The entry was the same as it had been at Silverstone, where Clay Regazzoni had given the Williams team its first victory, but Tyrrell's Jean-Pierre Jarier was in hospital with a liver problem and so the team had replaced him with Formula 2 driver Geoff Lees.

Qualifying resulted in Jean-Pierre Jabouille taking pole for Renault on the fast Hockenheim track but Alan Jones was second in the Williams and Jacques Laffite seemed to be rather off than usual in the Ligier. Nelson Piquet was fourth in his Brabham, ahead of Jody Scheckter (Ferrari), Regazzoni, Niki Lauda (Brabham), Didier Pironi (Tyrrell), Gilles Villeneuve (Ferrari) and Rene Arnoux (Renault).

In the race Jones took the lead at the start with Jabouille second, Laffite third, Scheckter fourth and Regazzoni fifth. Jabouille looked challenging and was about to take the lead on the eighth lap when he spun off. Regazzoni then closed up on Laffite and went into second place on lap 13. The Williams 1-2 lasted all the way to the finish with Laffite third and Scheckter fourth. For much of the race fifth place belonged to Villeneuve but he had to pit to have a rear wing adjusted and that gave Lauda the position for a brief moment before he suffered engine failure. Piquet then took the place but he too suffered engine failure and so the position went to John Watson (McLaren) with Jochen Mass of Arrows in sixth place, just ahead of Lees.