Belgian GP 1979
Belgian GP, 1979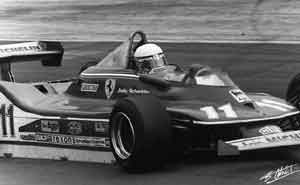 The F1 field had grown to 28 cars with the appearance of Bruno Giacomelli in the new Alfa Romeo F1 car, the company's first official entry in the World Championship since the end of 1951. This was using the old flat-12 engines while a new car was being built for the new V12. The entry was otherwise unchanged although Tyrrell had managed to find some much-needed sponsorship from Candy.

Qualifying resulted in the usual story of Ligier domination with Jacques Laffite ahead of Patrick Depailler. Nelson Piquet was third in his Brabham while Alan Jones gave the first hint that the Williams FW07 was going to be a competitive car by qualifying fourth. The third row featured Mario Andretti, who had decided to use the old Lotus 79 instead of the new 80 and Gilles Villeneuve in his Ferrari. His team mate Jody Scheckter was on the fourth row, alongside Carlos Reutemann's Lotus while the top 10 was rounded off by the two Tyrrells of Jean-Pierre Jarier and Didier Pironi. Niki Lauda was 11th in his Brabham and Giacomelli was 12th in the Alfa. At the back of the grid McLaren's woes continued with Patrick Tambay failing to qualify an old M26 after John Watson destroyed the second M28 in testing.

At the start of the race Depailler went into the lead with Jones grabbing second from Piquet while Laffite dropped to fourth. On the second lap Scheckter collided with Clay Regazzoni's Williams and Villeneuve was also involved as he snagged the rear wheel of the Williams. Both Ferraris were able to keep going by Regazzoni was out. Villeneuve had to pit for a new nose cone.

On the fourth lap, Laffite overtook Piquet, while behind them Scheckter was able to get ahead of Andretti and soon afterwards Scheckter also overtook Piquet. The order settled for a while and then Laffite slipped ahead of Jones and on lap 19 took the lead. Depailler quickly dropped behind Jones as well and on lap 24 Jones went into the lead. The Australian's hopes of victory ended on lap 40 with electrical failure and as Laffite had fallen behind Depailler again it was the second Ligier driver who went back into the lead until lap 47 when he understeered off into the barriers and Laffite went back into the lead. Behind him was Scheckter and the Ferrari closed gradually in and on lap 54 went ahead. All this left Reutemann in third place but in the closing laps he was caught and passed by Pironi. Patrese finished fifth with Watson plodding along to sixth.