Spanish GP 1978
Spanish GP, 1978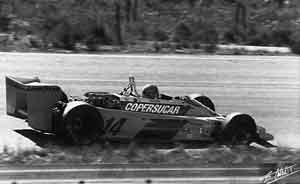 Two weeks after Mario Andretti's debut victory with the Lotus 79 at Zolder, there two of the cars in Spain and the team had landed additional sponsorship from Olympus, which had given up its efforts with Hesketh. As a result the Hesketh team had disappeared. Patrick Tambay was back in the second McLaren having missed the Belgian GP while Emilio de Villota reappeared in his McLaren M23. Rene Arnoux's Martini was missing and so there were 29 drivers for 28 places in qualifying. The unlucky man in pre-qualifying was Keke Rosberg in his Theodore.

The official qualifying sessions were completely dominated by Lotus with Andretti ending up fastest with Peterson second. Andretti was a second faster than third-placed Carlos Reutemann (Ferrari) who shared the second row of the grid with James Hunt's McLaren. Gilles Villeneuve was fifth in his Ferrari, ahead of Niki Lauda and John Watson (Brabham-Alfas), Riccardo Patrese (Arrows), Jody Scheckter (Wolf) and Jacques Laffite (Ligier).

The race saw Hunt take the lead while Peterson made a poor start and ended up in ninth place at the end of the first lap. For the first few laps Hunt led Andretti, Reutemann, Watson, Villeneuve, Patrese, Laffite, Scheckter and Peterson. On the sixth lap, however, Andretti breezed into the lead and began to pull away. Two laps later Peterson overtook Scheckter for eighth. This became seventh when Villeneuve began to hit tire trouble and dropped back. On lap 22 Peterson was sixth after Patrese's race ended with engine failure and on lap 29 he was fifth when Reutemann went into the pits for new tires.

Laffite and Peterson then managed to get ahead of Watson when the Brabham driver lost time in traffic and a lap later Peterson went ahead of the Ligier as well to be third. He chased after Hunt and on lap 53 moved into second. Hunt dropped behind Laffite and Lauda (who was making up for a bad start) but a lap later the Brabham went out with an engine failure so Hunt held on to fourth for a few more laps until Scheckter and Watson overtook him.

Reutemann was charging back through the field when something broke on the Ferrari and he went off, into and over the barriers and into the debris fencing. Fortunately he was unhurt.

Thus Lotus came home to a second consecutive 1-2 finish with Laffite third, Scheckter fourth, Watson fifth and Hunt sixth.

The result put Andretti 10 points clear of Peterson in the World Championship.