French GP 1977
French GP, 1977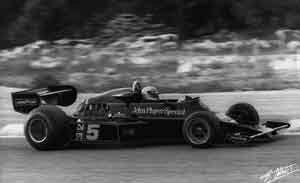 In the three years since the World Championship had last visited Dijon the track had been extended down the hillside with a 500 meter loop to a hairpin and back again. This made setup a lot more complicated. With 22 cars being allowed to start there were still seven entries who would fail to qualify. There was some disappointment as the expected Renault Sport turbo car did not appear as had been planned but there were some interesting additions to the field, notably at Surtees where Larry Perkins was replaced halfway through practice by rising French star Patrick Tambay. The rest of the field was not new.

Mario Andretti once again showed that the Lotus 78 was a good car by taking pole position by half a second with James Hunt second in his developing McLaren M26. Gunnar Nilsson was third in the second Lotus with John Watson fourth in the Brabham-Alfa Romeo. Then came Jacques Laffite's Ligier, Carlos Reutemann's Ferrari, Jochen Mass in the McLaren M23 and Jody Scheckter in the Wolf (the South African still the championship leader). His title rival Niki Lauda was ninth with Alan Jones 10th in the Shadow.

At the start Hunt took the lead but Andretti did not get away well and both Watson and Laffite got ahead of the Lotus. Watson looked threatening and on the fifth lap he took the lead. The order then remained unchanged until lap 17 when Andretti finally passed Hunt with Watson by then five seconds ahead. The gap remained static but gradually Andretti began to edge closer and in the closing stages Andretti was right on Watson's tail. It looked as though Watson had been able to contain the Lotus but on the last lap the Alfa Romeo engine missed a beat (its fuel was running out) and in a flash Andretti was ahead. Watson managed to keep the Brabham going to the flag but victory had gone to Andretti. Third place went to Hunt with Nilsson fourth, Lauda fifth and Reutemann sixth.