South African GP 1973
South African GP, 1973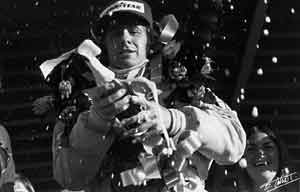 The three week break between the Brazilian GP and the race in Kyalami was enough time to allow the new Shadow F1 team to finish its first cars and the team, with backing from UOP turned up with drivers Jack Oliver and George Follmer. The new McLaren M23 was also ready for Denny Hulme and this meant that McLaren was able to run one of the older cars for Jody Scheckter. Andrea de Adamich made his return in a Ceramica Pagnossin Surtees. Nanni Galli was out of action because of an accident while testing a sportscar and so Frank Williams ran local driver Jack Pretorius. There were two other locals: Dave Charlton in a Lucky Strike Lotus and Eddie Keizen in a Tyrrell which had been acquired by Kyalami organizer Alex Blignaut.

In qualifying Hulme showed that the new McLaren was going to be a force to be reckoned with and took pole position, beating Emerson Fittipaldi (JPS Lotus) and an impressive Scheckter (in a McLaren M19C). Ronnie Peterson (Lotus) shared the second row with Clay Regazzoni's BRM while Peter Revson (McLaren) was on row three with Jean-Pierre Beltoise's BRM and Carlos Reutemann's Brabham. The top 10 was completed by Carlos Pace in the Surtees and Niki Lauda in his BRM. Jackie Stewart had a big accident in practice and was 16th on the grid.

At the start Hulme took the lead with Scheckter behind him and Fittipaldi third. Revson had made a good start and was fourth. On the third lap there was trouble when Charlton, who had made a great start from 13th on the grid and was running seventh, challenged Reutemann. He lost control and hit Mike Hailwood's Surtees. Most of the field managed to get through but down at the back of the field Jacky Ickx and Clay Regazzoni arrived and the BRM hit Hailwood's car. Regazzoni's car burst into flames with the unconscious Swiss driver at the wheel. Hailwood dived into the flames, undid Regazzoni's belts and managed to drag Regazzoni clear. Hailwood was later awarded the George Medal for his bravery. Regazzoni was rushed to hospital but he had only minor burns.

The accident destroyed Hulme's hopes of a debut win for the McLaren M23 as he suffered a puncture on wreckage and had to pit. That left Scheckter leading but Stewart was the man making progress and on lap seven he took the lead. He would remain ahead for the rest of the afternoon. Scheckter was second for a long time but eventually his tires began to fade and he dropped behind Revson and later Fittipaldi. With just a few laps to go Scheckter's engine blew, depriving him of fourth place.