People
Patrick Head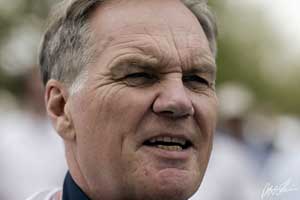 Head was brought up in a motor racing household. His father Colonel Michael Head raced Jaguar sportscars in the 1950s. Patrick was educated at Wellington College, one of England's famous public schools, at the same time as the late James Hunt and former Lotus engineer Peter Wright - although the three claim they never met during their school days. He then went on to the famous Royal Naval College at Dartmouth, but soon realized that he was not keen on a career in the British Navy. Instead he went to university, first at Birmingham and then at Technical College in Bournemouth. In the end he finished his academic career with a correspondence course at London University.

He finally graduated as a mechanical engineer in 1970 and went to work for Lola Cars in Huntingdon, where he found himself in the company of another ambitious young designer John Barnard. The pair became friends and rivals - Head was Best Man at Barnard's wedding. In 1972 Barnard moved on to McLaren and Head decided to set up his own business, preparing engines for SuperVee cars. He worked with partner Michael Cane - later to become a Williams team manager - to build the Scott Formula 2 car, although money ran out before the car could prove its worth and the engine business had to be closed when the workshops were destroyed by fire.

Head then went to work for Ron Tauranac, who had sold the Brabham F1 team to Bernie Ecclestone and was building Trojan Formula 5000 cars. Head designed these and even the Trojan F1 car, which was run in six GPs in 1974, with Tim Schenken driving. Dispirited, Head gave up racing. He spent 1975 and 1976 building his own boat but then Frank Williams convinced him to return to the sport, offering him the job of chief engineer of Frank Williams (Racing Cars) Ltd. A few weeks later the team was bought by Walter Wolf, who appointed Harvey Postlethwaite as chief designer. Head stayed on for that year but, at the end of 1977, he and Williams left the team and established Williams Grand Prix Engineering. Williams took 70% of the company and Head 30%.

Initially they ran a two-year-old March for Belgian pay-driver Patrick Neve but for 1978 Williams found sponsorship from Saudia Airlines and Head - and his assistant Neil Oatley - designed the Williams FW06. With Alan Jones driving it did well and the FW07 which followed in 1979 was a breakthrough classic, establishing the team as one of F1's top operations. Success brought backing from Honda and the Williams empire has been expanding ever since.

Head has overseen the early careers of many successful F1 engineers, notably Oatley, Frank Dernie, Ross Brawn, Adrian Newey and Egbahl Hamidy.