People
Pat Fry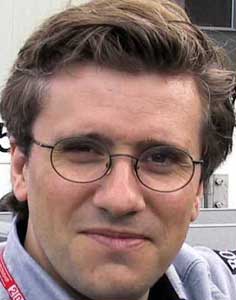 Pat Fry is one of McLaren's race engineering team. This may seem a low profile job but in fact Fry is one of the most sought-after engineers in the paddock.

Fry comes from the London suburb of Shepperton. He found studying a frustrating experience and after several attempts at courses in electronic engineering he became an apprentice with Thorn EMI. He then completed a day-release course in electronics at the City of London Polytechnic. His lack of academic qualifications, however, did not indicate a lack of intelligence and he was soon working on missile programs for Thorn EMI. Like many young engineers he got bored with the paperwork and began looking elsewhere. In his spare time he designed and built unusual suspension systems for motorbikes but unable to find a job in motorcycle racing he applied for work at Benetton in 1987 - just as the team was embarking on its active suspension program.

Initially he worked in Pat Symonds's research & development department and then the test team, trying the active system. When John Barnard took over the technical side of the team he plucked Fry out of the Witney operation and put him in charge of R&D at the team's Godalming offshoot. When Barnard departed Fry was put back on the test team in 1991 but in 1992 he was made a member of the race team and engineered Martin Brundle. The following year, he was lured to McLaren by Giorgio Ascanelli, a former Benetton colleague. Initially he worked on the active suspension program but when the systems were banned he engineered on the race team in 1993 and 1994.

In 1995 he engineered Mika Hakkinen but the arrival of Williams engineer David Brown and the fact that McLaren's senior race engineer was Steve Hallam, meant that Fry found himself without a specific job in 1996, as Tim Goss had taken over his role as test team engineer. He worked on research and development projects before returning to the race team as race engineer for David Coulthard. In 2002 he was promoted to the role of Chief Engineer Race Development and was then named as Chief Engineer MP4-20 responsible for the research and development of the 2005 car and then switched to become Chief Engineer MP4-22 for the 2007 car.