Circuits
Bahrain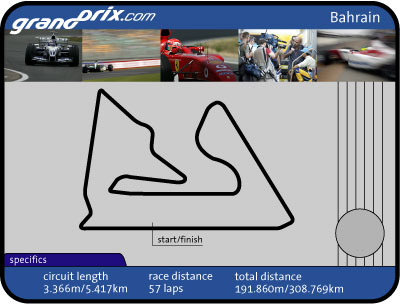 There has long been talk of races in the Middle East but the only major event was in Dubai in December 1981 when British businessman - Martin Hone, who later organized the Birmingham Superprix - organized a Grand Prixon a makeshift 1.6-mile track around the Hyatt Regency Hotel. There were five events and considerable appearance money meant that the turnout of VIPs was impressive. There was talk at the time of the track being extended but the Dubai GP never happened. The Arab world became more interested in rallying with the highly-successful Middle Eastern Rally Championship.

In 1995 there was a brief flurry of excitement in the region when it was announced that there were plans for a race to be held in Qatar. A year later Abu Dhabi announced that it had similar plans. Neither materialized.

By 1997 there was talk of a race in the war-shattered Lebanese capital Beirut in an effort to restore the international image which the city had enjoyed in the 1950s when it was one of the most glamorous spots in the Mediterranean. In August 1998 Lebanese businessman Georges Boutegy announced that he has signed a draft agreement with F1 boss Bernie Ecclestone to hold a Grand Prix in Beirut in the year 2003 and that F1 Race Director Charlie Whiting had been to the Lebanon to inspect a proposed track. A few weeks later Prince Albert of Monaco, on a state visit to Beirut, announced that Monaco was willing to help in the organization of an event. The plan announced at the time was for a track to run through the downtown area - destroyed in the fighting - but being rebuilt by a company owned by the Lebanese Prime Minister Rafic Al-Hariri. This led to a dispute when another businessman called Khaled Altaki announced that he was going to build a new circuit close to the sea outside the city. Al-Hariri was replaced as Prime Minister and the new government announced that it was making major cutbacks. The Beirut GP has not been heard of since.

In 1999, however, Ecclestone visited both Dubai and Cairo to discuss races with the local authorities. The Egyptians were keen to discuss a Grand Prix in the desert, as a means of rebuilding the country's tourist industry which was virtually destroyed in November 1997 when Islamic extremists massacred 58 international tourists in Luxor. Dubai was also keen on promoting tourist trade, using tourism as a means of replacing lost revenue as oil reserves dwindled.

In the end Bahrain beat them all to a race, concluding a deal in 2002 to run a Grand Prix at an all-new facility in 2004. The construction work was carried out by a local building contractor and by the Malaysian firm WCT Engineering, which built the Sepang circuit outside Kuala Lumpur. The new track has been designed by Hermann Tilke.