Features - Year in Review
DECEMBER 12, 2001
Ferrari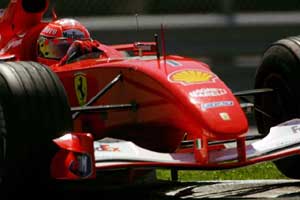 © The Cahier Archive
Michael Schumacher recently affirmed his belief that F1 is in the middle of a Ferrari era, an era which the team has dreamed of creating for a long time. He added that this process started a long time ago and it is his hope that it can be sustained for a good while yet.
Such sentiments will be greeted with a profound shudder by Ferrari's front line rivals; Schumacher has won nine races in each of the 17 race 2000/2001 seasons and is clearly out for more before Maranello comes to the end of the most successful cycle in its entire Grand Prix history.
This year Schumacher became the first Ferrari driver since Alberto Ascari in 1953 to successfully defend and retain his World Championship crown. Paired for the second year with Brazil's Rubens Barrichello, Michael benefited from the mechanically almost bullet-proof Ferrari F2001, an aerodynamically further refined version of last year's car, powered by type 050, 90-degree V10 developing reputed 820bhp. The team's early season promise buttressed by announcement that Philip Morris would be extending its Marlboro title sponsorship of the team until 2006, after which tobacco advertising will be banned in F1.
Ferrari had a brilliant year technically, with only a handful of mechanical failures on their aerodynamically excellent F2001s. A fuel pump failure sidelined Schumacher at Hockenheim while Barrichello suffered a rare, and very spectacular, piston failure at Indianapolis which caused the engine to seize with just a lap and a half to run.
Yet by far the most bizarre malfunction came at Imola during the San Marino GP where sky-high brake temperatures caused a wheelrim on Schumacher's car to overheat almost to the point of meltdown. When Michael lightly clipped a curb, the overstressed rim broke and he limped into retirement. This wasn't helped by the fact that his car-to-pit telemetry went off the air for the first dozen-or-so laps and by the time it started working again the situation was beyond being saved by Michael simply backing off and hoping things would cool down!
Ferrari's early season success, notably in Australia and Malaysia, prompted cynics to suggest they had an illegal traction control system and their advantage would evaporate once those systems became admissible once again from the Spanish GP onwards. In fact, Ferrari's "wheelspin avoidance" systems in the first four races were not only legal, but they certainly gave them no additional advantage. When full closed-loop systems were readmitted from Barcelona onwards there was no change in the status-quo.
"The pressure of building a new car when you are still developing the existing car, like McLaren and probably Williams, right through to the last race of the current year is quite demanding," said Ross Brawn.
"The F2001 is I believe the best car we've produced since I've been at Maranello, along with an effort which went right to the end of the previous season. We have great stability with the likes of Rory Byrne, Aldo Costa and Giorgio Ascanelli, Paolo Martinelli, all of them have been there for five years or more. And I think the fact that we have all agreed to stay for several more years have helped the situation."
The F2001 was regarded as "a good evolution" from what went before, facing the challenge of lifting the front wing and imposing a size constraint on the rear wing. That said, by the middle of 2001 the team was back to the sort of downforce levels it had achieved the previous year.