Features - Year in Review
NOVEMBER 14, 2001
European Minardi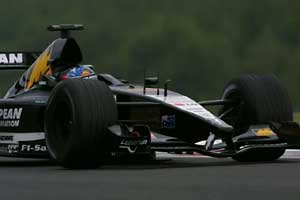 © The Cahier Archive
Life in the F1 pit lane can so often be about little triumphs behind the scenes rather than high profile glory out on the circuit. With that in mind, it was a miracle is that any Minardis are on the starting grid at all this season. Back in January the tiny team from Faenza came within days of closing its doors until Australian aviation entrepreneur Paul Stoddart stepped in with a rescue package, ensuring that the cars were readied in the nick of time to be completed in time for the Australian grand prix.
Paddock speculation suggests that he paid about 3.5 million pounds for the struggling Minardi squad in addition to also taking over debts of around 15 million pounds. Even so, by formula one standards it looks like the bargain of the age.
A passionate motorsports fan and a keen amateur racer himself, Stoddart had originally tried to buy the assets of the Tyrrell team at the end of 1997. On that occasion he was thwarted when the assets of the team were sold instead to British American Racing for around 13 million pounds.
Stoddart purchased all the old cars and technical hardware when Tyrrell stopped racing in 1998 and established a race engineering infrastructure at European Aviation's headquarters at Ledbury, Gloucestershire.
Minardi under Stoddart's stewardship also hit the headlines unexpectedly mid-season following the defection of their technical director Gustav Brunner who unexpectedly quit the team to join the fledgling F1 program being built up by the world's third largest car maker.
Gradually during the course of the year its two centers at Faenza and Ledbury were expanded and refined, the UK base also producing the two seater celebrity cars in addition to carrying out research and development plus the test team. They have also worked hard on bringing in more sub-contract work from the outside in order to have more control over the component manufacturing and production process.
The Cosworth Zetec-R V10 engines were generally rebuilt and maintained by Cosworth-approved specialists Langford and Peck. Short on development, they benefited from a revised bottom-end specification from Imola onwards which largely eliminated piston problems which had caused a
After Brunner's defection, Gabriele Tredozzi took charge of the chassis development program, presiding over two aerodynamic upgrades at Monaco and Silverstone plus a revised titanium gearbox incorporating totally revised rear suspension. That was available in time for the German GP.
The team's number one driver Fernando Alonso proved that he has great potential, great enough for his manager Flavio Briatore to lure him away to take a test driving role for the Renault F1 squad next season.
That was a huge loss for Minardi who will switch to Asiatech (nee Peugeot) V10s next season. Yet nobody could have been surprised that the 20-year old Spaniard wanted something bigger and better from his future. It remains to be seen whether Stoddart can now snare a driver of Heinz-Harald Frentzen's calibre in a bid to move the team forward.