Features - Tribute to Clay Regazzoni
DECEMBER 16, 2006
Rough and tough: my memories of Clay Regazzoni
BY MIKE DOODSON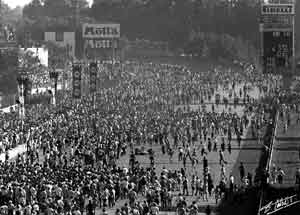 © The Cahier Archive
There's an ancient cliche, bandied about by those who love flying, that there are old pilots and bold pilots - but no old, bold pilots. The same strictures may safely be applied to racing drivers, but Gianclaudio "Clay" Regazzoni - who was killed yesterday in a traffic accident - was the exception who proved the rule. You could accuse "Regga" of bullying and unfairness, which were the tactics to which he once resorted when he occasionally fell short in terms of ultimate skill, but nobody could ever have said that he was short of bravery.
It remains a mystery how Clay managed to get away with his strong-arm stunts and survive. To this day, Jackie Stewart is indignant about Clay's attempts to push him off at the Nurburgring in 1971, and in a dispute at Watkins Glen in 1974, the garage owner's son from Lugano landed several solid punches on no less a figure than the Clerk of the Course at the US Grand Prix. Only some skilful diplomacy by the Ferrari TM (one Luca di Montezemolo) saved Regga the Slugger from losing his licence.
It was a horrid irony that the accident at Long Beach in 1980 which ended the Regazzoni career in F1 was in no way his fault. Life in a wheelchair demanded a different kind of bravery, and Clay did not fall short there either.
I will admit that I found it difficult to warm towards this swarthy Italian-speaking Swiss, at least to begin with. I'd been on the staff at Motoring News for less than a month in the summer of 1968 when the news came through from an F2 race at Zandvoort that Chris Lambert, a British privateer, had been killed while being lapped by Regazzoni. Although there was no TV coverage to confirm what happened, eye-witness testimony suggested that Chris had been cold-bloodedly nerfed off the road.
The fun-loving Lambert was a good mate to several of us on the paper. Fragile cars and obstacle-strewn circuits meant that those were dangerous times, though, and Chris had always recognised the risks he was taking. Sadly, his father could never come to terms with his loss, and proceeded to pursue Regazzoni through the courts in several countries. The case went on for years before, inevitably, petering out.
Meanwhile, Clay Regazzoni had been recruited by Ferrari and was moving into the big time. Despite his Swiss origins, to the tifosi he was as good as Italian, so when he won at Monza, in only his fifth F1 race, pandemonium broke out. Many of us would have been minded to share in the celebrations if the loss of Jochen Rindt - killed in his Lotus the previous afternoon - had not still been weighing on our minds. There was some resentment that Italy's new hero failed to acknowledge Rindt on the podium.
Nevertheless, I couldn't ignore the fact that Clay Regazzoni was someone about whom MN readers would be interested, so I determined to put together a profile of this mystery man from a country where racing was banned. His English was almost as non-existent as my Italian, but I discovered that he spoke French reasonably well. There were no interfering press managers in those days, of course, and we arranged to meet over breakfast on the morning after the US Grand Prix. While it was not an easy interview, I quickly realised that Clay appreciated my interest and wanted to repair the less than immaculate reputation that his past behaviour had generated among English-speaking fans.
Evidently my fellow journos found Clay a lot less approachable than I had done, because that MN interview became the basis for almost everything that was written about him in English for several years to come. I know this because the so-called "wild man" had revealed the existence of a wife and two children, whose names he wrote down for me. One of them was Gian-Maria, who I assumed (in my Anglo Saxon innocence) was female. Although I soon discovered that Gian-Maria was a boy, almost every profile of Regazzoni continued to credit him with two daughters instead of one. All my fault!
Fortunately, both for himself and his opponents, Regazzoni softened a bit. Some of the responsibility for this lies with Niki Lauda, who joined Ferrari alongside him in 1974. Clay had just spent a year at BRM, where he and Lauda had been team mates, and to begin with it was the experienced Swiss who was the quicker. Once Lauda had settled in, of course, things swung in his direction. I believe that this forced Clay to accept, for the first time, that he wasn't in the top rank of F1 drivers. That theory is reinforced by the fact that the two men became genuinely good friends, something which tends not to happen between competitive, closely-matched team mates.
Henceforward, Clay became something of a journeyman driver in F1. He was treated shoddily by Ferrari at the end of 1976, when the Old Man chose not to tell him until the end of the season that Carlos Reutemann would be taking his place. This forced Clay on to the open market, where he was picked up by Ensign. From there he went to Shadow in 1978 and a year later he joined Frank Williams. At the British Grand Prix, where his team mate Alan Jones led but failed to finish after an experimental new water pump broke, Clay memorably gave Frank his first-ever F1 victory.
It was an emotional occasion, not a dry eye in the house, but when the time came to decide who would be driving alongside Jones in 1980, it was once again Carlos Reutemann who got the nod over Clay. At least this time Clay was given a decent period of warning.
When I asked Frank a couple of years ago about why he had dumped a driver who by then was not only experienced but almost error-free, he responded with some figures. "Very simple, Michael," he said: "Lap 1, 1m 14.2s; Lap 2, 1m 14.6s." The fast laps would frequently be close to the record, but Regga, alas, couldn't match them consistently.
Frank's comments made me think back to the day in 1972 when MN was the only UK publication to attend the official opening of Ferrari's new test track at Fiorano, just over the road from the factory. After a splendid lunch (I was seated next to Mr Ferrari himself), we were shown the circuit and the sophisticated Heuer timing equipment installed all round it, with data displays on screens in a central building. Ferrari chief designer Mauro Forghieri revealed to us that the cars were also fitted with sensors in their transmission systems.
"And what have you learned from this?" I asked, in all innocence.
"Aaah," said Forghieri, "we now know that of all our drivers, Clay Regazzoni makes the fastest declutching moves and the fastest gear shifts. Unfortunately, the two operations almost never happen simultaneously."
After Williams, Clay returned for the 1980 season to Mo Nunn's Ensign team, where he had spent a brief but happy time in 1977. Although the car looked quite promising, Nunn was having to scratch around for sponsorship wherever he could find it. Regazzoni's name still commanded some respect, and things seemed to be going in the right direction when Clay suffered a brake failure at Long Beach.
The weight of the engine behind Clay's back caused serious spinal injuries. The American doctors were, as always, brilliant, but ultimately there was nothing to be done. Clay would have to spend the rest of his life without the use of his legs.
The injuries put an end to some of Clay's fun, but not to all of it. He continued racing, both on the Paris-Dakar and in the occasional sportscar event. He put a lot of energy into charities specialising in disabilities and was for a while a commentator on Swiss TV.
Occasionally we would meet in a race paddock somewhere, and always he remembered the English reporter who had interviewed him long ago at Watkins Glen. The conversation, though, was never banal, because he always had some event to promote, some charity for which he wanted publicity.
At 67, I suppose he was getting old. But Clay Regazzoni somehow managed always to be bold. That's how I will remember him.