Features - Interview
MARCH 28, 2011
Sauber technical director James Key
BY TONY DODGINS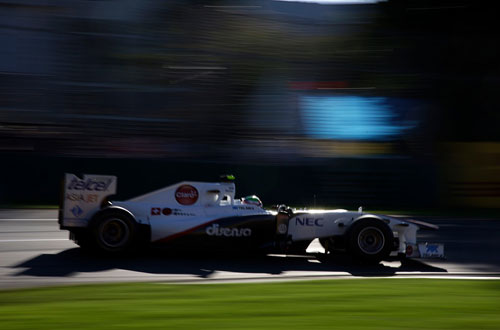 © The Cahier Archive
Sauber rookie Sergio Perez, who finished seventh on his GP debut and did an amazing one-stop race, which involved 34 laps on a set of soft Pirelli tyres in Melbourne, was unfortunate to have his result annulled as a result of Sauber's rear wing infringement in the Australian GP. Kamui Kobayashi also lost his eighth place. Technical director James Key says that the disqualification was very disappointing and that the top element of the uppermost rear wing element is not an important part of its function. We wait to see what happens with regard to an appeal but Tony Dodgins spoke to Key about Melbourne in the immediate aftermath of the race.
Q: How satisfying was it to take a double points finish first time out with the C30?
We can be very satisfied. We didn't know what to expect coming into the weekend, qualifying went okay and to go into the race and bring both cars home reliably with both drivers doing an absolutely outstanding job, was a very welcome start. A lot of people kept asking if we had enough experience in the driver line-up. You never know when you have a rookie and another only a year into his career but we felt that Sergio went into testing and showed a good turn of pace and for both of them to control the race in the way that they did was tremendous. There were a few issues at the start but no real mistakes. They hung onto the tyres and knew what they had to communicate to us. I don't think they missed anything.
Q: When was the seed of the one-stop strategy for Sergio sown?
When we gave him soft tyres on lap 22 we weren't expecting it either! About lap 45 was when we decided we'd give it a go. We monitored it very closely, we were speaking to Pirelli and they were advising us about our wear on the first set of tyres and they said it looked pretty good. We felt that if the lap times continued as they were and didn't drop off as we'd seen before, then we'd just leave him out. That didn't really happen until about a couple of laps before the end, when he probably backed off a little bit anyway, to be fair. It was a bit of an eye opener and I think we'll go to Kuala Lumpur with a slightly different view on the tyres.
Q: Was there any hint from Friday practice that you might be able to do that?
We felt that the car was being quite kind to the tyres and even from winter testing it wasn't a big issue for us, but it's very difficult to tell. We went into the race thinking we'd just go with the flow to a certain extent. We obviously had a strategy for each driver but because we didn't know what to expect we just monitored the situation as we went. We started Sergio on the hard tyre, which maybe wasn't best because it was a bit tricky to warm up, and around lap 20 we decided to stop because he didn't have too good a feeling with the tyres. We knew just by looking at the lap times that if we had to stop him again he'd probably drop into P10, which was okay. But he maintained the pace for a long time and we started to think we could see it through. It was pretty nervy towards the end and there was the odd slow lap but then you'd realise it's because he was lapping someone and the lap time came back again. We were looking out for the sudden drop-off - if he'd suddenly dropped 2s and then another second the next lap, that was the time to stop, but he didn't.
Q: Did the track rubber in because there was talk beforehand that it might not?
That's what was strange about the weekend. In winter testing we just didn't get any improvement in the track at all but in Melbourne it definitely improved. It was much more similar to last year and, to be fair, that's how Pirelli said it would be.
Q: So Sergio was okay at the end, he could have gone on?
No problem. He was good, his feedback was good and we didn't talk to him that much and let him concentrate on the job in hand. He was held up by Vettel in the middle of the race, which is always a good sign!
Q: At places more aggressive on tyres will you be in really good shape?
Possibly. We'll have to see. Malaysia could be okay because it's a high-speed track and it's going to be harder on the tyres. Track temperature we still don't fully understand. Was Melbourne ideal conditions and then it goes over the top and the rears start going off? I think certainly going into the next few races we will view things slightly differently. We need to do our homework on how we prepare on a Friday to understand what's really possible.
Q: Fifth in the constructors' championship. Do you expect that to continue?
It's going to be tough. It's very close and there were several teams around us who didn't have such a good weekend so I think we have to continue to aim high but in reality it's not going to get easier. We deserved a good result in Australia, we worked very hard for it over the winter and so the disqualification is doubly disappointing.